Second-half dominance is a staple of Mooney's season
Mooney vs. Chagrin Falls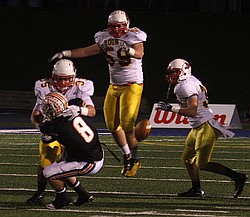 Gallery
Team

| Record | Div. | Conf. |
| --- | --- | --- |
| 7/5 | Div. IV | Independents |
YOUNGSTOWN
Cardinal Mooney will be making its 11th state finals appearance on Friday when the Cardinals (10-3), play Springfield Shawnee in the Division III championship game.
Mooney's last finals appearance was in 2009 when the Cardinals beat Columbus DeSales for the crown.
In knocking off previously unbeaten Chagrin Falls, 24-14, Friday night, Mooney overcame a scoreless first half and put up 21 points in less than three minutes in the third quarter.
To achieve such a result, the Cardinals resorted to a combination of adjustments, execution and the will to win.
"We've been down in probably half of our games going into halftime," coach P.J. Fecko said. "It's a matter of making some adjustments and refocusing everybody and coming out and making plays."
At halftime, Chagrin Falls' 7-0 lead didn't sit well with Mooney, an eight-time state champion.
"We've been in this position many times this year," said quarterback P.J. Quinn. "We came down [to the locker room] and I believe in my guys more than anything. I knew that we were going to put up a fight, that's for sure. We put up a fight and good things happen when you never give up."
The deficit fed Mooney's habit of rebounding.
"We couldn't get things going [the first half], but we got in here [the locker room], went over some stuff and we got the job done," said Quinn, who was the game's leading rusher with 129 yards on 17 carries.
His contribution included two 30-yard gains, the second of which was a touchdown on a QB draw after he feigned a pass.
"Our running back was able to pick up a blitzing linebacker and he was able to crack it," Fecko said of Quinn's move out of the pocket and up the middle to the end zone that tied the game, 7-7, and started a momentum shift.
Quinn's earlier 30-yard gain came after he was swung around by his jersey in the backfield, but managed to break loose.
Quinn also had several 3rd-and-short or 4th-and-1 conversions — fairly regular occurrences at which the Cards usually succeed.
Quinn's TD run that was set up by Carmen Lanzo's blocked punt and Marcus McWilson's 55-yard interception return for a TD were quick strikes that preceded Ryan Farragher's TD catch from Quinn that also covered 55 yards.
Fecko said that the roles of RBs McWilson, Roosevelt Griffin and and Justus Ellis-Moore were altered to give Quinn a better chance to move the ball himself.
"That way [going to Quinn, especially in the third quarter], he was able to give us another blocker with a back," Fecko said.
The critical halftime adjustments are a team effort.
"That's when you get a chance to communicate with the players," Fecko said. "Those guys have the greatest eyes, being a part of it, so you talk to them and decide where you're going to go with it."
Yet the coach found words for his defense.
"Defense was the key for us tonight; they battled and came up with play after play," Fecko said of fumble recoveries by Anthony Dermotta and Cameron DiVito and interceptions by McWilson and Farragher.
McWilson's interception came after a pass to Anthony DeCamillo was tipped.
His dazzling return route had a zig-zag pattern.
"I saw that it was tipped up, so I figured I should get it because it's a free ball. Then, going downfield, it looked like I was going to go out of bounds, but I was able to spin off of a tackler, keep my feet in bounds, then cut back for the touchdown."
His TD and Conor Durina's point-after kick gave the Cards a 14-7 lead.
McWilson also executed a fake punt that extended a drive and eventually got Mooney close enough for Durina's 18-yard field goal with 2:45 left.
"I felt that we were close and we could also use some momentum to keep going and have a chance to drive for another touchdown," said McWilson. "We were close to the sticks [needed about 2 yards]. So I paced it a little slower and went and got the first down."
Although Chagrin Falls was 13 of 27 for 129 yards in the air, Mooney's secondary of McWilson and Joe DeNiro as safeties and CBs Kareem Ellis and Farragher played solidly.
"We had a lot of field to cover and guys were running back and forth. We played a lot of man-to-man to the two-receiver side, so we were able to cover our guys and make plays," said McWilson.
Of the halftime message when trailing, 7-0, McWilson said: "We definitely needed to come back because we wanted to go to state. The other team was really good, but we needed to keep our composure and keep fighting. We made big plays and got on top in the third quarter, and then didn't let up in the fourth quarter."
Quinn addressed the adjustments.
"We went over on the board and Coach told us stuff we had to do. But, it wasn't so much that as it was our season being on the line. We wanted this bad and we went and got it. Our will to win changed everything."
Chagrin Falls was attempting to make its third straight trip to the state finals. The Tigers were state runners-up the last two years, both in Div. IV before moving up to III this season.