Cardinals will play for eighth state title against Springfield Shawnee next week
Mooney vs. Chagrin Falls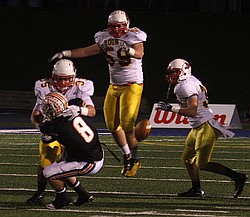 Gallery
UNIONTOWN
Via the longest routes, Cardinal Mooney is 51.5 miles from Alumni Field.
For a game with a state final appearance as a reward, the Cardinals traveled short, quick distances, overcoming a scoreless first half to defeat Chagrin Falls, 24-14, on Friday night in a Division III state football semifinal.
"We were able to get them off the field quick, even though they had the ball to start the third quarter," Mooney coach P.J. Fecko said of his team's response to a 7-0 first-half deficit.
"We were able to come up with some points in a hurry," he said of Carmen Lanzo's blocked punt that set up a touchdown and Marcus McWilson's interception return for a TD within one minutes, 13 seconds of each other.
"That [blocked punt] gave us field position and then we had the interception for a touchdown," Fecko said before adding that Ryan Farragher's TD catch of a P.J. Quinn pass that covered 55 yards came about one minute, 30 seconds later.
"They were overplaying in there, so we figured we could flip it out there and it worked out," the coach said of the Quinn-to-Farragher aerial.
It all showed that Mooney was going for the kill.
"You've got to get points on the board," Fecko said. "But give Chagrin Falls a lot of credit. I think they played well all year and they were an excellent football team that played well tonight."
Although Mooney's offense showed up the second half, its defense was holding its own the whole 48 minutes.
"Defensively, we played solid all night," Fecko said. "We turned the ball over on the 35 [which was then returned to the 8]. But defense was the key for us tonight; they battled and came up with play after play."
Unable to produce much from its running backs in the first half, the Cardinals put Quinn's legs to work and used Roosevelt Griffin, Marcus McWilson and Justus-Ellis Moore primarily as blocking backs.
"P.J.'s run the ball well all year and he was able to break some things open and get us some yards," said Fecko.
Quinn had 17 carries for 129 yards.
Chagrin Falls got on the board first after the Tigers recovered a fumble at Mooney's 35-yard line and returned it to the 8. Two plays after the turnover, Bradley Munday caught a 5-yard TD pass from Tommy Iammarino. Alex Hallwachs' extra-point kick gave Chagrin Falls a 7-0 lead with 6:58 remaining in the second quarter.
The Cardinals started strong in the third quarter after Carmen Lanzo blocked Anthony DeCamillo's punt. Mooney took control at Chagrin Falls' 32-yard line and after two plays, Quinn, who appeared to be back to pass, saw daylight on the ground and scooted up the middle for a 30-yard touchdown run. Conor Durina's PAT tied the game 7-7 with 9:50 to go in the third quarter.
Chagrin Falls had a good kickoff return to its 41, but, three plays later, Iammarino's pass was bobbled by DeCamillo and the ball was tipped into the hands of a McWilson, who ran it back for a TD at 8:37. Durina's kick gave the Cards a 14-7 lead.
After a Tigers punt, Mooney regained possession at its 45. On the first play, Quinn launched a pass to Farragher, who collected the ball in stride. Durina's kick put the Cards ahead, 21-7, with 7:03 left in the third quarter.
Chagrin Falls came right back with a four-play drive that was capped by Bily Cale's 41-yard touchdown run with 5:52 left in the third quarter. Alex Hallwachs' kick pulled the Tigers within 21-14.
But, in the fourth quarter, Durina's 18-yard field goal with 2:45 left finalized the scoring.