'Wonderful crowd' seeks Black Friday deals at Eastwood Mall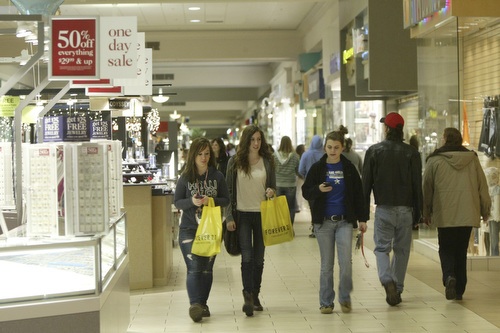 ---
By Karl Henkel
khenkel@vindy.com
NILES
Surrounded by bags on a wooden-plank bench at the JCPenney wing of Eastwood Mall, Chad Mumaw buried his head in his left hand.
It was shortly after 6 a.m. on Black Friday, nine hours after Mumaw, a Diamond native, and his wife Erica, began their Christmas shopping bonanza.
"I'm tired," he said. "We've been going since nine o'clock last night."
Mumaw, like many, took advantage of this year's early Black Friday specials.
Many stores, including Walmart, had sales that began as early as 10 p.m. on Thanksgiving.
That's where the Mumaws found a pair of laptops for his two children at $200 a piece.
Most other stores, including 34 inside Eastwood Mall, opened their doors at midnight Friday morning to the delight of many super shoppers, who opted to stay up late.
It was unlike previous years, where waking up early was mandatory to score the best deals.
"We had a wonderful crowd [at midnight]," said Ken Kollar, mall manager. "I think it spreads the crowd out."
More like this from vindy.com