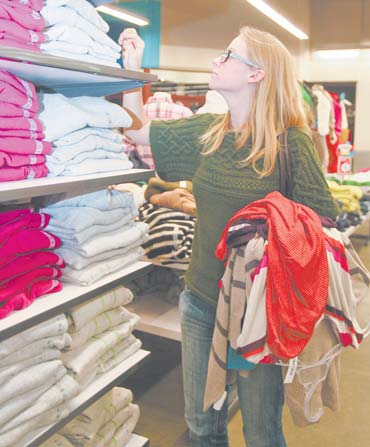 Photo
Phoebe Gordon, 24, of Columbus searches for winter clothes at Old Navy in The Shops at Boardman Park. Old Navy was open from 9 a.m. to 8 p.m. Thanksgiving Day, then reopened at midnight.
BOARDMAN
By the time Vindicator readers see this story, Marcee Richardson will have snagged a hot Black Friday deal at Best Buy.
Richardson, of New Castle, Pa., was first in line at the electronics retailer and ready when the doors opened at 12 a.m. this morning — with her eye on a 42" Sanyo LCD 1080p HDTV
for $199.
"I'm looking for the TVs, a Blu-ray player, the deal on laptops and digital cameras," she said, estimating she would spend about $700 there.
With retailers facing the fourth holiday shopping season in a national recession, Best Buy was one of many stores that opted to open at midnight instead of the traditional 4 a.m. to 6 a.m. range.
That meant Richardson celebrated Thanksgiving a day earlier and arrived at the store 6 p.m. Wednesday — 12 hours earlier than she did in 2010, when The Vindicator first met her in line.
She said she and her seven family members, including cousin Nicole Nixon, were more prepared this year.
"We have a tent, heaters, chairs, lights, food, drinks, chargers, a laptop," she said.
If the other couple hundred of people in line weren't as prepared, Mandy Comstock, 23, of Boardman, and volunteers for the Best Buy Relay For Life team were selling concessions.
"We figured it would be a good fundraiser," said Comstock, who was offering hot dogs, coffee and candy.
On the other side of The Shops at Boardman Park, Sarah Crabtree, 20, of Salem and Ashley Jastreb, 21, of Salem were tucked under blankets, Sudoku puzzles in hand, and had secured their first place in line at Old Navy.
"We're looking for the jeans and sweaters," Jastreb said. Both pieces of clothing were offered for prices as low as $15.
First-time Black Friday shoppers, Crabtree said she called ahead and was told to arrive about 8 p.m. Thursday.
"I wanted the camera, too," she said, referring to the Kodak Easyshare Sport waterproof camera Old Navy was giving out to midnight shoppers.
The pair decided to hold their ground after contemplating going inside to scope out merchandise, as Old Navy was one of the few stores open from 9 a.m. to 8 p.m. Thanksgiving Day.
"We had a lot of customers who were excited we were open," said Johnna Shrum, a service-in-training store manager.
Shrum said there was a short afternoon lull Thursday — "probably people were eating Thanksgiving dinner" — but that store traffic was steady.
Paula Ringos Drapcho, who is originally from Struthers, did shop at Old Navy Thanksgiving evening.
"We were looking for bargains," she said.
"And walking off the turkey," added her sister, Cindy Ringos, of Saline, Mich.
The two were there with their sister, Patti Ringos, of Toledo, and other family members. The crew left Old Navy about 7 p.m. clutching bags filled with scarves and fleece clothing.
"I do feel bad for the workers," Drapcho said.
But she recalled when she was growing up, Hills department store was always open on Thanksgiving, so it wasn't unprecedented.
Drapcho said she and her sisters, who have shopped on Black Friday together for more than 20 years, will return to the stores about 8 a.m. today.
"It's just tradition," she said.