The Top 10 Reasons To Lose Sleep On Black Friday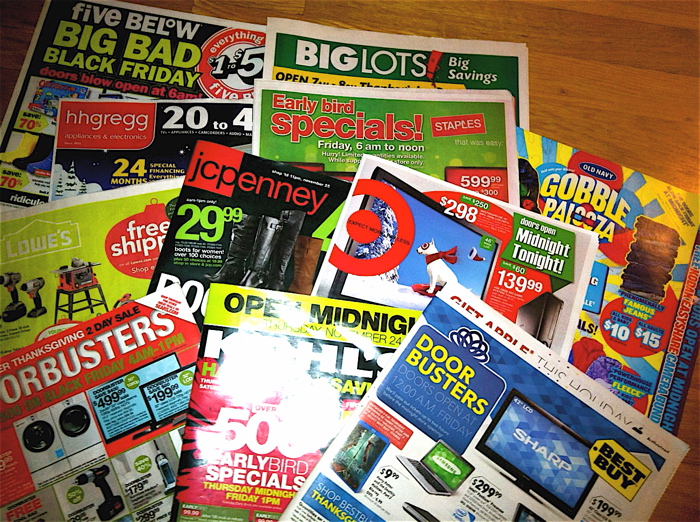 ---
By Mark Sweetwood
Managing Editor
@VindyDeals
Yikes! I am late!
We have no time to lose: The newspaper will probably hit your door between 6 and 7 a.m. this morning
And I know you are excited. So, earlier this week, I was allowed the opportunity to preview the giant package of inserts in the biggest Vindicator of the year.
After some careful reading, here's a list of 10 great deals that will make Black Friday a GREAT Friday:
10.) Big Lots has a GIANT Dakin 30" plush bear for only $5 for the first 50 customers. A great, cheap gift for the young ones on your list. The store opens at 7 a.m. Friday.
9.) Five Below has a Toy Story 3 version of the classic board game Operation for $5. They open at 6 a.m. Friday
8.) The new kid on the Route 224 block in Boardman, hhgregg, has a Pandigital 7" Android Tablet and ereader for $69.99 after a $10 rebate. This is a low-end tablet that runs Android 2.0 operating software but garners good reviews and can be expanded up to 32GB with a memory card. No iPad, but a decent introduction for the teens. They open tonight at midnight.
7.) Staples appears to win the Kindle derby. You can buy the wi-fi version of the ebook reader with "special offers" (code for "ads that play when you are not actively reading") for $79 just about anywhere, including at Amazon.com. However, if you buy yours at Staples, they will give you a $15 store gift card. I would use mine to lower the cost of their Memorex mini shelf speaker for iPods/iPhones to $4.99 (regularly $49.99). Staples opens Friday at 6 a.m.
6.) Both J.C. Penney and Sears have a unique "Doorbuster:" 2 carat diamond bracelets for $99.99. (Full disclosure: Mrs. Vindy Deals sells jewelry at Penneys.) I can't vouch for the Sears deal, but Mrs. Vindy Deals reports the Penneys bracelets are nicely designed in silver though the diamonds are about what you'd expect for $99.99.
5.) Target has a Nikon L105 Digital Camera for $100 off for just $99.99. Target also opens at midnight tonight and this is a great value on a top brand-named item.
4.) Lowe's has a Skil 10" 15-amp table saw on a bench for $69 (normally $149). Lowe's opens at 5 a.m. Friday.
3.) Kohl's is offering $15 in Kohl's Cash for your next visit for every $50 you spend through Sunday. Buy five Ohio State-themed fleece hoods for folks on your list for $21.99 each during the early bird specials and get $60 to spend Monday. That's a total spending value of $310 for $109.95. Kohl's opens at midnight tonight.
2.) Old Navy will give out a Kodak Easyshare Sport waterproof camera PLUS coupons valued at $100 for a $40 purchase. You must get in line early and secure a wristband. They open tonight at midnight.
1.) This is the deal getting all of the buzz: Best Buy has a 42" Sanyo LCD 1080p HDTV for $199. The store opens at midnight and the fine print says "Minimum 10 per store." That's a great brand at a great price BUT you must get there early.
Next up: Winners and losers among the ads PLUS pitfalls to avoid! Also, how to wheel and deal to the best bargains.
More like this from vindy.com