Making merry on a $150 toy budget? Santa makes magic!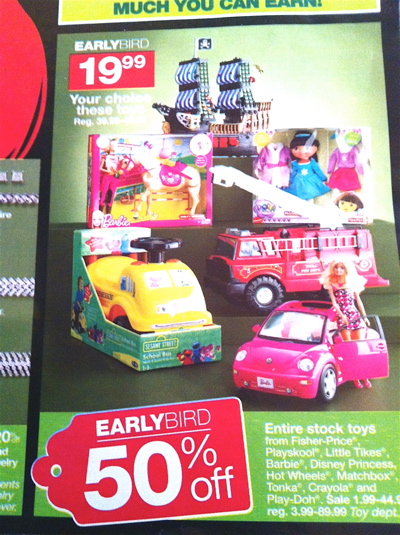 ---
By Mark Sweetwood
Managing Editor
@VindyDeals
OK, let's play "Let's Pretend."
Let's pretend you are Santa.
And further, let's pretend the elves are on strike (If only SB 5 had passed!).
And, let's further pretend that 7-year-old Billy and 8-year-old Suzy have been very, very good. Billy likes Toy Story and trucks and things that shoot. Suzy is fascinated by Barbie and dress up and fashion.
And, you have a limited budget. You are aiming for $150 per child. To a mere mortal, that would seem impossible. But you have help: Using The Vindicator's biggest newspaper of the year, you target six stores from 10 p.m. Thursday to 7 a.m. Friday and you map out a plan you will execute with ruthless efficiency.
Let's go:
• Walmart at 10 p.m.: Hot Wheels 8-pack of cars, $5; Disney Princess doll $5; Sponge Bob Ants in the Pants, $3.88; Cootie game, $3.88; Tonka Truck variety pack, $10. Total: 27.76
• Kohl's at midnight: Barbie and her horse, $19.99; Barbie and her VW, $19.99; Toy Story play set, $24.99. Total: $64.97 (plus $15 in Kohl's Cash to use Monday). Online Thursday, this would be 55.22 if you apply the GOBBLE15 code at checkout.
• J.C. Penney at midnight: Barbie, $3.99; Nerf gun, $3.99; Another Nerf gun, $7.99. Total: $15.97.
• Target at midnight: Radio-controlled Harley Davidson truck, $18.99; Toy Story play tent, $10; Disney Princess play tent, $10. Total: $38.99.
• Five Below at 6 a.m. Toy Story Operation game, $5; two snuggle pillows, $7.98; DC Superman figure, $3.99; DC Batman figure, $5; Make Your Own Jewely, $5; Disney Princess stationary kit, $5. Total: $31.97
• Big Lots at 7 a.m. (This one is tricky. Two of you need to be in line first and check out separately.): For Billy: $5, 30" Dakin plusher, Toy Story Action Links, $5; Hot Wheels Bionic Battle playset, $19, remote-controlled Extreme ATV, $19, Christmas candy, $3. For Suzy: $5 Dakin plush bear, Polaroid 4GB MP3 player, $14.88, Disney Princess Dress Up Trunk, $19; Disney Fairy Light Up Doll, $15, Christmas candy, $3. Total: $107.88 plus you get $20 to use on your next purchase starting Monday.
So, Billy would find under the tree: Hot Wheels cars, Tonka Trucks, two Toy story play sets, two Nerf guns, two remote controlled toys, a Toy story play tent, the Operation game, two action figures, a snuggle pillow, a giant bear and a Hot Wheels play set.
Suzy would find A Disney Princess doll, three Barbies and a horse and car, Disney Princess play tent, a snuggle plow, a jewelry play set, Disney Princess stationary, a giant plush bear, a MP3 player, a Disney Princess dress up set and a Disney Princess light up doll.
They would also have two games to share.
Total before taxes? $287.54. Taxes will put you $10 over your budget.
But what about batteries? Wrapping paper? Does Santa seriously think he can get away with just $6 total in candy?
Relax. You still have $15 credit at Kohl's and $20 at Big Lots. So your buying power exceeds the $300 budget.
And if Santa wanted to throw in a family gift – a Wii, a big TV, a computer, etc. – he has some leverage because the toys are taken care of because you made lists and a game plan and stuck to that plan.
And to all a good night…
Send me your finds, ideas and questions! Email: msweetwood@vindy.com. Twitter: @VindyDeals.
More like this from vindy.com