Let's be careful out there: Buyer beware!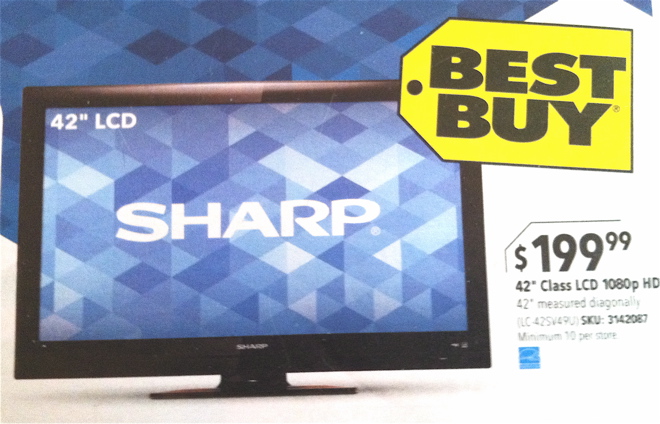 ---
By Mark Sweetwood
Managing Editor
@VindyDeals
Happy Thanksgiving!
My newspaper arrived at about 2 a.m. Yours?
And now: Decisions, decisions…
Perusing the ads today can create an information overload.
Literally hundreds of HDTV bargains. Which one is best?
Kindle vs. Nook? And who has the best deal?
Online vs. standing inline. Is it worth the wait?
There are great deals to be had BUT always keep in mind that at the end of the day, the merchants' goal is to separate you from your hard-earned money. It is your job to make sure that when you do spend money, you do so wisely.
This is more akin to hunting than shopping and it requires all of your senses. The old saying applies here: You can't hit it if you can't see it.
So make sure you really see what you are aiming for or you'll just end up at home with some other hunter's decoys.
For example, let's consider one of those big-screened TVs. As discussed in the wee hours, Best Buy has a 42" Sanyo LCD 1080p HDTV for $199. The store opens at midnight and the fine print says "Minimum 10 per store." That's a great brand at a great price BUT they will be limited.
So, what's Plan B? It seems like nearly every ad has some sort of TV on sale, even Linens & More. What you need to keep in mind: The Best Buy TV is 1080p which means it features 1,080 lines of vertical resolution. The other, lesser standard is 720p. That means a lesser quality picture.
Over at hhgregg, they have a 32" Toshiba for $199.99 after a $50 mail-in rebate. BUT: No resolution is listed. Checking the Internet, it is 720p. Kmart has a Seiki 40" LCD TV for $299, but no resolution listed. I found out at Amazon.com that this model is 1080p, but it only had a two-star rating. Walmart has a 40" Emerson 1080p for $248 as a doorbuster, but, as in the case of Kmart, you are not dealing with a top-tier brand and internet info is sparse.
It's a roll of the dice, which is what makes the Best Buy deal such a, uh, best buy.
The runner's up to the Best Buy TV deal is the $265 40" Element 1080p LCD TV at Target on the lower end and the $499.99 50" Zenith 1080p plasma TV at Sears on the higher end.
Speaking of Walmart, I have been a little underwhelmed by their offerings this year.Maybe it's because the store has set the Black Friday bar so high in past years. They have some good deals. But are they waiting-inline-for-hours good?
On it's front page, Walmart features one of it's many Kindle products, the new Amazon Kindle Fire, for $199. Why feature that so prominently? Why would I stand in line when I can buy the exact product for $199 on Amazon.com without leaving the couch? Inside, Walmart also offer the basic Amazon Kindle ereader for $79, also the exact same cost as online at Amazon.
That strikes me as lazy. As mentioned previously, if you buy that model at Staples, they will give you a $15 store gift card. At Radio Shack, you get a $10 store coupon (and you could return the next day to use it get a radio-controlled Ford Mustang for $2.99 (a $25 value).
Not to pick on Walmart, also on their cover is a LG Blu-ray dsc player for $49. Sounds good, eh?
NO! The only blu-ray disc player for the future you should consider is the kind that allows you to stream videos. If it is NOT wi-fi enabled, it will be as useful as a VHS player by this time next year. The $49 Walmart offering is not wi-fi enabled, but they offer two on next page – including a Sony for $79 – that are far superior.
As you might note, I am something of am electronics geek…
Next up: Some shopping scenarios.I will show Santa how to completely fill underneath the Christmas tree for a 7-year-old boy and a 8-year-old girl for less than it cost to feed his reindeers for a day...
More like this from vindy.com