Organization is the key to Black Friday success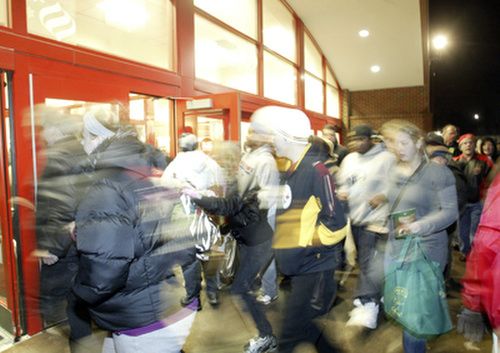 ---
By Mark Sweetwood
Managing Editor
@VindyDeals
While gift giving is an American tradition at this time of the year, recent times have been a little leaner and "practical" has become the operative word.
Now that doesn't mean that everyone has to get socks. But it does mean that:
• You must make a practical budget. According to the National Retail Federation, the average American family will spend about $704 on gifts this holiday season, down from $832 in 2008. Figure out what works best for you in your situation and stick to that budget.
• Create a practical plan. Weigh the pluses and minuses of wants vs. needs. If 8-year-old Billy wants an Xbox for Christmas, that could devour a good portion of a budget. Combined with 11-year-old sister Susan's desire for a Kindle ereader, the budget could be a third gone in two purchases. So, focus your shopping skills on a good game system or a ebook that may do the job for less. Also, you can buy a Kindle product anywhere, but it's important to buy it at the place that maximizes your budget.
• Consider a budget limited by buying practically everything in cash, check or debit card. Christmas shopping is the wrong time to add to credit debt.
• OK, socks make pretty good gifts, as do hoodies, gloves and other cool weather staples. Many stores are featuring great deals on, say, sweatshirts featuring your favorite college or pro team logos (like America's Team the Chicago Bears or any college program not currently enshrouded in shame). Practical doesn't have to mean dull.
So, just like the old food pyramid, carefully consider the basic gift groups when making your list:
• Toys
• Electronics
• Clothes and accessories
• Jewelry and watches
• Tools and housewares
• Gift cards
Match people to gifts and keep whimsy and practicality in equal measure. And avoid gift cards for specific stores or restaurants unless requested specifically by the giftee. When Sharper Image filed bankruptcy in 2008, an estimated $20 million in gift cards became worthless. But, American Express, Visa and MasterCard gift cards will always be worth something, though cash is still king.
All this is leading up to the obvious point: Black Friday can be a bonanza for those practical souls who are planning to spend money anyway, but would like to save a couple of extra bucks or make their budget go further. I promise you, there are great deals to be had out there and with a little organization, you can make Black Friday work for you.
All of this is, of course, leading to the biggest Vindicator of the year with a super-sized Thursday newspaper featuring plenty of in-paper ads and, at last count, 53 advertising inserts. I will be your tour guide after midnight tonight with a preview of the best deals.
There's a lot of hype about Black Friday. There are great deals as well as pitfalls. The only way to optimize Black Friday is to have a plan and stick to it ruthlessly.
Meanwhile, start making a list and be sure to check it twice. The best way to attack Black Friday is by creating an organized game plan. That begins with a list and a budget.
Create a shopping list by person and by spending goal. A typical entry might look like: "Aunt Betty, new scarf, $10."
Make your list and check back here after midnight for practical ideas and an exclusive top-10 list of deals worth losing sleep over.
More like this from vindy.com