ODNR expert hears Coitsville's concerns over well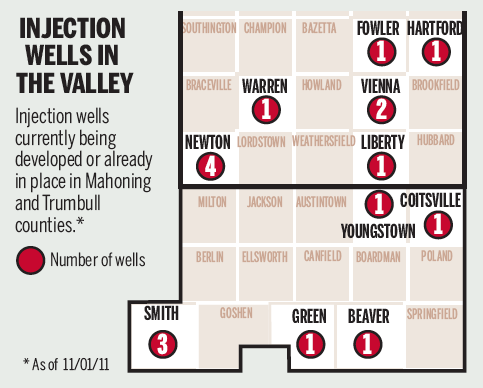 ---
Fracking Introduction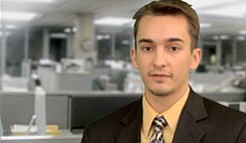 Video
Karl Henkle highlights key issues of Fracking and how it affects residents of the Mahoning Valley.
By Karl Henkel
COITSVILLE
Grimilda Ocasio has lived on Oak Street in Coitsville for more than three decades.
She, like many other township residents, gets her drinking water from a well.
So when she recently saw a new brine injection well on U.S. Route 422 near The Purple Cat, she became instantly frightened.
"I've always had my water tested," she said Monday after a town-hall meeting with the Ohio Department of Natural Resources. "I'm really concerned."
Tom Tomastik, geologist with ODNR, fielded questions from observant residents about the D&L Energy Inc. injection well that was permitted within township limits earlier this month.
Injection wells, which often are drilled as deep as 9,000 feet below the ground, accept brine water from fracking, a process in which water, chemicals and sand are blasted into rocks thousands of feet below the ground to unlock natural oil and gas.
Injection wells are cement-and-steel-cased. There are currently 17 injection wells in development or already in place in Mahoning and Trumbull counties, including one in Youngstown.
"Could something happen?" Tomastik said. "Sure, but it's very uncommon for deep well injections."
There is concern about whether that water can potentially contaminate aquifers or well water, but Tomastik said there have been no instances of subsurface contamination.
Many residents expressed concerns about how the township had no say in the placement of the well.
Ohio law stipulates three requirements for injection-well permits: a nonrefundable $1,000 application fee, an area of environmental review a half-mile around the proposed well and legal notice. Local governments cannot reject an injection-well permit. Only ODNR has the authority to make such a move, but only if there is legitimate concern to health, safety or conservation of natural resources, Tomastik said.
Some residents think injection wells are the best way to dispose of brine.
Ohio law states that brine may be disposed of by one of only three methods: underground injection, surface application on roads for dust control and ice or any other method approved by the chief of the Division of Oil and Gas Resources Management for testing or implementation of a new technology or method of disposal.
"These injection wells are a good alternative," said Rich DeLuca, former Struthers wastewater superintendent and a Struthers resident. "But they really don't belong in places like this.
"I think local communities need to have the power of home-rule with these injection wells."