Wolford: 'Future looks bright' for YSU football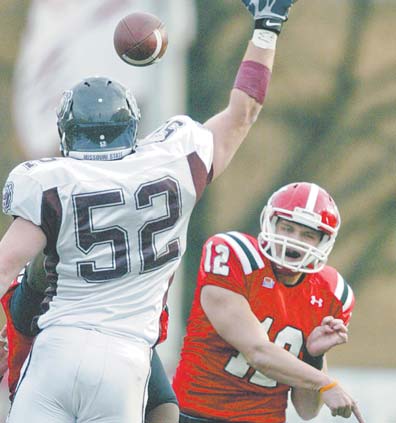 Photo
YSU quarterback Kurt Hess fires the ball past Missouri State's Andrew Biesel in Saturday's loss. With nearly every major contributor returning next season, the Penguins will not let a bad finish negatively affect recruiting or player development.
By Joe Scalzo
YOUNGSTOWN
The biggest offseason of Eric Wolford's head coaching career came sooner than anyone expected.
The Youngstown State football team seemed poised for its first playoff berth in five years before blowing a 17-point halftime lead at home Saturday to a 1-9 Missouri State team.
The loss overshadowed a 6-5 season that saw the Penguins double their win total from 2010. With nearly every significant contributor coming back, it's up to Wolford and the Penguins to move on quickly and not let a bad finish negatively affect recruiting or player development.
"Coach tells us all the time, the standard around here is championships," said sophomore QB Kurt Hess, who set several single-season passing records in his second year as a starter. "We didn't achieve our goals.
"We do have a strong nucleus coming back and the expectations are only going to get higher."
YSU will return every offensive starter except senior TE David Rogers, who was a valuable blocker but caught just seven passes in eight games. Junior TE Will Shaw came on late — he caught two TD passes against MSU — and the former linebacker/safety/defensive lineman should be even better next year once he gets a chance to learn the nuances of the position.
Defensively, YSU will take a hit on the line with the graduation of starters Andrew Johnson, Daniel Stewart and Obinna Ekweremuba but returns all its starting linebackers and everyone in the secondary except senior Scott Sentner, a part-time starter at safety.
The Penguins will need to improve its speed and athleticism on special teams — particularly on kickoff coverage — and get physically stronger but many in the program feel YSU should be at worst a playoff team and at best make a run at the national championship next fall.
"We're going to get there, that's not hard to see," said Wolford. "It's just the impatient way that things are in today's society, myself included. We want things now. Just like your phone has email on it and text messages right now. It's a now, now, now society.
"Unfortunately in football, there's a physical process that needs to take place."
Wolford compared it to when he was a player at Kansas State, where the Wildcats went 1-10 his first season and 9-2 in his last, with fits and starts in between.
"I think the future does look bright," Wolford said. "We've just got to continue to keep working hard."