Wife's love eases pain of Austintown man's worsening Alzheimer's
By Denise Dick
Austintown
Living With Alzheimer's Disease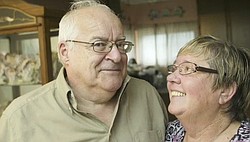 Video
An Austintown man and his wife talk about living with Alzheimer's disease.
Smiling photographs of Barry and JoAnn Claycomb hang on the walls of their township home.
"Live, laugh, love" decorates the frames. It's a motto the couple lives by — even now.
Vindicator readers were first introduced to the couple in November 2010, two years after Barry was diagnosed with Alzheimer's disease.
At that time, he still enjoyed yard work and toiling in the garden. A year later, the disease has robbed him of that. When he tries to mow the lawn, he gets tired and confused.
A year ago, Barry was still JoAnn's go-to guy when it came to fixing just about anything that went wrong in their township home. Now, he forgets where he places his tools and forgets how to repair household appliances.
Tasks that used to take a couple of hours take days. Some don't get done unless JoAnn calls a repairman.
Even the microwave confounds him.
"When he has to do a small chore, he gets worked up," said JoAnn Claycomb, 65. "It's very difficult."
About a week ago, the couple's kitchen sink started giving them trouble. Barry, 67, tried to fix it.
Before, it was a job he would have finished in short order.
"I could fix anything," he said.
It's been several days. He puts a tool down and can't remember where he put it. He gets frustrated and depressed.
"I feel useless," he said.
"You're not useless — far from it," said JoAnn. "It really bothers me when he says that. You're very important to me, that's for sure."
It's hard sometimes to not get angry.
"Basically, I wonder why this happened to me," Barry said. "Why did I have to be a candidate, as I say."
"God has a purpose for all of us," JoAnn assures him. "We may not know what it is, but there's a purpose."
They use humor and rely on their faith during the bad times and try to take things one day at a time.
Barry isn't the same as he was before he got sick, but JoAnn loves and values the person he's become.
That's something she wants others with loved ones afflicted with Alzheimer's to know.
"They're still a person," JoAnn said. "They still have feelings. Don't just leave them sitting in a chair."
The couple views the disease as an epidemic and decided to talk about it to help others.
Many won't discuss it.
"It's a closet disease," JoAnn said.
About 5.4 million U.S. residents live with Alzheimer's, according to the Alzheimer's Association, and someone develops the disease every 69 seconds.
November is Alzheimer's Awareness Month.
"We need more awareness," she said.
The Claycombs say they're grateful for the help they've received from the Greater East Ohio Area Alzheimer's Association office in Canfield. The association provides information, referrals and support groups.
Barry has good days and bad days.
A bad day may start from frustration with a chore or something someone says. The funk may stretch into several days.
"I've had to learn to do a lot more," JoAnn said. "I've had to take on more responsibility."
Decisions such as buying a new appliance or going out of town that the couple used to make together, JoAnn now decides on her own.
When they would travel, Barry used to drive, but he can't anymore.
Shortly after the diagnosis, Barry gave up his driver's license. That was a few days after he lost his job as a machinist because the boss worried Barry was a danger to himself and others.
It was hard on Barry, maybe harder on JoAnn.
"It was like everything was being taken away from him," she said.
This year, JoAnn was looking forward to her birthday because when she turned 65, she qualified for Medicare. Barry didn't remember.
"It's the first time Barry forgot it in 46 years," JoAnn said.
Besides those diagnosed with the disease, Alzheimer's takes a toll on spouses, children, siblings and other loved ones who take on the role of caregiver.
The association estimates there are more than 585,000 unpaid caregivers of Alzheimer's patients in the U.S. amounting to $666 million in unpaid care.
JoAnn tries to make time for herself when she can. She enjoys taking photographs and scrapbooking. That's been a salvation for her. When Barry is having a good day, she leaves the house to visit craft stores, and that helps her relax — but not really.
That voice in the back of her head always accompanies her: What's Barry doing? Is he all right? Is he going to hurt himself?
Barry spent a short time in a nursing home a few years ago after suffering a heart attack. He doesn't want to go back.
But the couple acknowledges that's a possibility. They've discussed nursing homes and home-health care, but JoAnn plans to care for Barry at home for as long as she can.
They try to stay active, and even with the disease and the challenges it presents, the couple's bond sets an example for others.
Barry and JoAnn participate in a marriage group with other couples at their church.
"They say, 'Barry is an inspiration to us,'" JoAnn said. "We tell them, when you're in love, there are obstacles that are thrown at you. Don't let them stand in your way. Move around them or go through them."