Crestview gets stung by Kirtland
Hornets' strength and defense dominate Rebels in Division V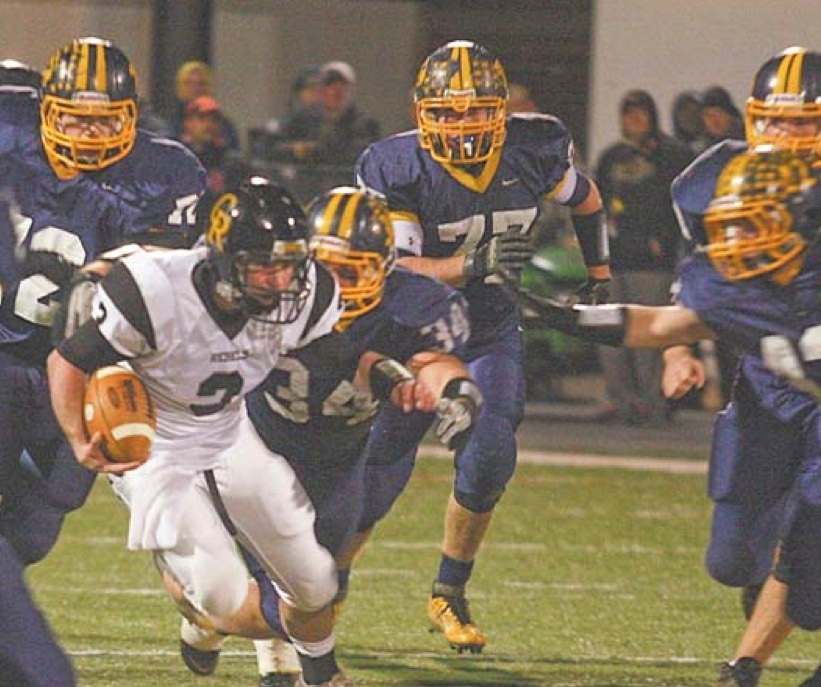 Photo
Kirtland defenders swarm Crestview quarterback Adam Coppock during the Division V regional championship game Friday at Mollenkopf Stadium in Warren. The Hornets overwhelmed the Rebels, 35-7.
WARREN
Many high school football players who sulk after a loss don't want to be bothered for hours.
After losing to Kirtland, 35-7, in the Div. V Region 17 championship game at Mollenkopf Stadium Friday night, Crestview players could have done the same.
But C.J. Collins didn't shirk from his promise to talk.
After a tearful hug from family members, he took a deep breath, then, in a most statesman-like delivery, said:
"This team [Kirtland] is something special, so you've got to give them all the respect. Our coaches put us in a position to win, but we just didn't show up. We can't hang our heads. these are the best times of our lives so far. So you've got to accept it. We're rooting for Kirtland, which won't do anything short of state [championship]. Anything but state is a disappointment."
That's composure, that's Crestview, that's class.
Collins put his 6-4 frame and heart into his tackles of Kirtland's bullish Christian Hauber, who gained 206 yards and scored four touchdowns to vault his Hornets (13-0) into the state semifinals.
Many times, Collins hung onto Hauber, but was dragged for yards by the Air Force Academy-bound recruit.
As difficult as it was stopping Kirtland's power runner, Crestview also had the task of catching speedster Damon Washington — the other half of the Hornets' two-pronged threat.
Washington added 94 yards rushing and a touchdown for Kirtland, which is making its first state semifinal appearance.
"We've been in regional finals twice and lost to Ursuline [in 2008 and 2010], so this is our third trip and we didn't have to play Ursuline," Kirtland coach Philip LaVerde said. "So, here we are; now we're in the final four."
For Crestview (11-2), coach Paul Cusick was realistic about his Rebels' turnovers and penalties and lack of execution.
"I think we got caught up in the emotions and couldn't control ourselves. When you're playing a great football team like Kirtland, you can't do that," Cusick said of two fumbles lost and two interceptions, one of each which resulted in a Hornets TD.
"Obviously, that's the best team we've played," Cusick said. "They have a great shot at winning it all."
Cusick didn't expect being shut out until Adam Coppock scored on a 1-yard run with 0:27 left in the game.
"No, I thought that if we got a flow going offensively, we could do something, but we just didn't get in a flow. We had the turnovers and had a penalty here and there and, against teams like that [Kirtland], you can't do that. It just snowballs from there."
Kirtland had 21 first downs to Crestview's six and Nick Blower was held to 38 yards rushing.
"We knew they were going to be the best defensive team we've played — that's no mystery," Cusick said. "They did a good job of shutting us down."