Cardinals capture state semifinal berth
Staff report
Mooney vs Dover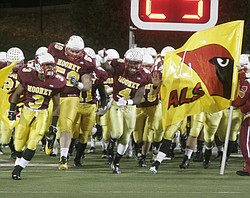 Gallery
It looks like the Cardinal Mooney High School football team and its fans are going to sit out Black Friday celebrations.
That's because they will be staging their own Burgundy and Gold party in the Division III state semifinals.
Friday, the Cardi-nals rallied from a 31-28 halftime deficit for a 70-44 victory over Dover at Canton's Fawcett Stadium.
Roosevelt Griffin led the Cardinals with 233 yards rushing and three touchdowns.
Justus Ellis-Moore scored four touchdowns, and Anthony Dermotta returned an interception 41 yards for a touchdown.
Next up for Mooney will be a state semifinal against Chagrin Falls.
Crestview didn't fare as well in Division V, losing to Kirtland 35-7 at Warren's Mollenkopf Stadium.
The Rebels trailed only 14-0 at halftime, but the Hornets scored two touchdowns in the third quarter.