Ohio treasurer calls on Brown to support fracking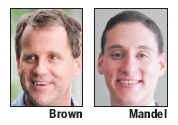 ---
YOUNGSTOWN
Ohio Treasurer Josh Mandel, a Republican likely running for the U.S. Senate next year, says he supports a "responsible but aggressive" policy on fracking.
"The Mahoning Valley is one of the areas that will greatly benefit from fracking," said Mandel, who called The Vindicator on Thursday to discuss the issue as well as criticize a decision by a national forest supervisor in the Athens area for postponing a plan to lease more than 3,000 acres for oil and gas drilling.
Fracking is a process in which water, chemicals and sand are blasted into rocks, such as in the Marcellus and Utica shale formations, thousands of feet below the ground to unlock natural gas and oil.
Mandel called on U.S. Sen. Sherrod Brown, a Democrat he'll likely face in the 2012 Senate race, to support fracking. Mandel also wants Brown to call on Anne Carey, supervisor of the federal Wayne National Forest in Athens County, to change her decision to spend up to six months evaluating a plan to lease the land for drilling.
Brown is with either "Washington bureaucrats and fringe environmentalists or the people of Ohio," Mandel said.
Carey opted to examine shale-drilling procedures and fracking after local government officials in Athens County, the city of Athens and local residents expressed concerns about the impact it would have on groundwater, The Columbus Dispatch reported.
When asked if Brown supports fracking, Meghan Dubyak, his spokeswoman, said: "Sen. Brown supports responsible domestic energy production. His priority is making certain that fracking negotiations result in good jobs for Ohioans, a fair deal for landowners, a safe local drinking-water supply, and sustainable, long-term economic growth for Ohio communities."
She didn't respond to a question about the senator's position on Carey's decision.
But Justin Barasky, an Ohio Democratic Party spokesman, said, "Josh Mandel is demonstrating a stunning level of ignorance about a local Ohio issue. This is a decision being made by locals, and Josh Mandel needs to explain to them why he thinks he knows more about their community than they do."
Mandel said the gas-and-oil business is booming and "a delay in drilling is a delay in job creation for the state of Ohio."
The business can "rejuvenate parts of Ohio," including the Valley, he said.
"For the Mahoning Valley, it's the manufacturing jobs that will support drilling," such as V&M Star, Mandel said.