Non-US citizen pleads guilty in DUI case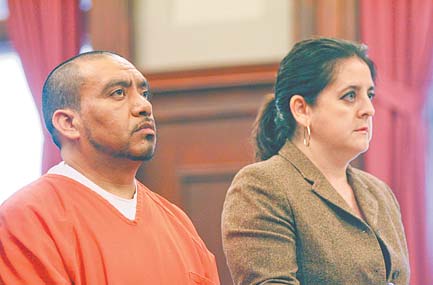 Photo
Victor Manuel Galindo-Barjas pleaded guilty Wednesday to two counts of aggravated vehicular assault and one count of operating a vehicle while under the influence. He was represented by Atty. Miriam Ocasio.
YOUNGSTOWN
Staring straight ahead at the judge and speaking through an interpreter, a 35-year-old man pleaded guilty Wednesday to severely injuring two people when he crashed into their car while drunk.
Victor Manuel Galindo-Barjas, a native Spanish-speaker, is charged with two counts of aggravated vehicular assault and one count of driving while under the influence.
He was charged after a July 25 car accident in which he veered left of center on Western Reserve Road near New Buffalo Road. Barjas' vehicle struck another driven by 20-year-old Bruce A. Minotti Jr. of Youngstown, police said.
Minotti suffered multiple injuries, including a broken pelvis, and his passenger, a 19-year-old Canfield woman, injured her arm, according to reports.
The Ohio State Highway Patrol reported that Barjas had a blood-alcohol content of 0.273 — more than three times the state legal limit of 0.08.
When asked to enter a plea Wednesday, Barjas first said, "I don't have any" through an interpreter. After Barjas' attorney, Miriam Ocasio, spoke to him in Spanish, he answered again through the interpreter.
"Yes, I am guilty," he told Judge John M. Durkin of Mahoning County Common Pleas Court.
Jennifer McLaughlin, an assistant county prosecutor, said she will recommend a 10-year prison term at Barjas' sentencing Dec. 28.
Ocasio said she will argue for a sentence that is "much less" than that.
The maximum sentence on each count of aggravated vehicular assault is five years in prison and the maximum for OVI is 180 days in jail.
Barjas is from Mexico and is a not a U.S. citizen. Judge Durkin warned him that the guilty plea "carries with it the possibility or risk of deportation ... or a denial of naturalization."
Prosecutors confirmed that U.S. Immigration and Customs Enforcement does have a hold on Barjas, who will remain in jail until sentencing.