Penguins win, but there's room to improve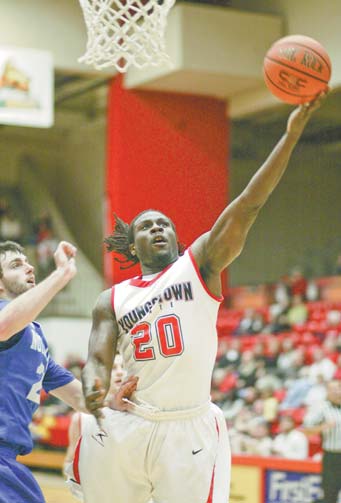 ---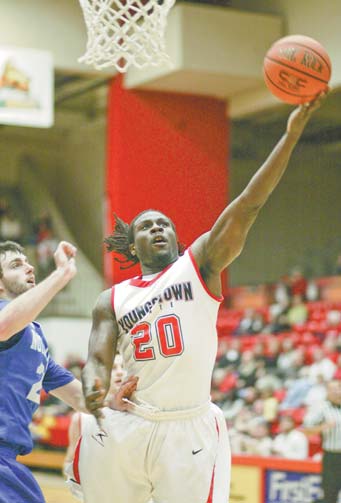 Photo
Youngstown State's Ashen Ward scores on a layup against Notre Dame College's Phil Biggs during the first half of Tuesday's game at the Beeghly Center.
By Joe Scalzo
YOUNGSTOWN
It took 11 seconds for Youngstown State to get its first dunk, 22 seconds to force its first turnover and 26 minutes to tie the school record for 3-pointers in a game.
Not a bad start.
Unfortunately, not a great finish, either.
Behind 18 points from sophomore guard Kendrick Perry, the Penguins easily defeated Notre Dame College 80-62 in Tuesday's home opener, but YSU coach Jerry Slocum came away unsatisfied with his team's performance over the final 20 minutes.
"I think it was a tale of two halves," said Slocum. "I thought we did a really good job in the first. I think we got kind of trapped into settling for 3s — and I think we're capable of doing that — but in the second half it kind of dried up."
With Notre Dame playing zone from the outset, YSU hit its first seven 3-pointers and finished the first half 12 of 18 from behind the arc to grab a 51-31 lead.
"I thought the first half was kind of a clinic on sharing the ball and making the next pass and guys stepping up and making open shots," said Slocum.
But YSU (2-0) shot just 2 of 11 on 3-pointers in the second half, missing its final seven. No matter — the Penguins' 14 3-pointers tied the school record set in last year's loss at Butler.
"We were hot in the first half, kind of fell in love with the 3," said senior Ashen Ward, who was 5 of 7 from long distance and finished with 17 points. "I think we did the same thing in the second half and those shots weren't falling."
Ward's five 3s gave him 103 for his career. He needs four more to move into 10th on YSU's all-time list.
"I've always considered myself a shooter," Ward said. "I guess now I'm verified."
Damian Eargle scored 12 points to go with a team-high eight rebounds and Blake Allen added 14 points as four of YSU's five starters scored in double figures. YSU also got 17 points from its bench after the reserves scored just two points in Saturday's season-opening win over Samford.
"We've got to develop our bench," said Slocum. "Those guys have got to play and they've got to be able to help us.
"We will take every opportunity, especially early in games, to try to develop those guys."
Forward Eric Dummermuth, a 6-foot-6 senior forward who is built like an NFL tight end and earned second team NAIA All-America honors last season, had 20 points and 10 rebounds for the Falcons (1-1), who are transitioning from NAIA to NCAA Division II. Freshman guard Marcquice Taylor added 13 points and gave YSU fits with his quickness and dribble penetration (although he did have nine turnovers).
"I thought in the first half we did a really good job on both," said Slocum. "In the second half, I thought both those guys had their way with us."
Still, YSU is 2-0 for the second straight year and plays its final November home game Friday night against UC-Riverside.
"This time of year, there's so many things we've got to do better," Slocum said. "We've got a home game Friday night, then we've got six out of eight on the road.
"We've got to speed this process up, and to do that, we've got to play better basketball than we did in that second half."