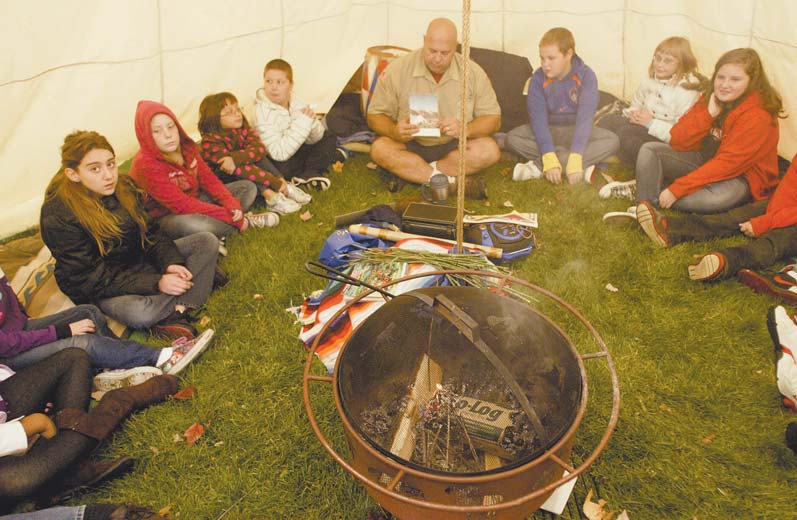 Photo
Wes Jones, owner of Native Life Tipi Rental, set up camp on the lawn of Struthers Elementary School. He began teaching classes in Native American culture Monday and will continue to do so through Thursday.
By jeanne starmack
struthers
It was warm inside the tepee on the lawn at Struthers Elementary School, though outside, it was chilly and wet.
There was a fire going, but breathing was still easy — no smoke was getting in the faces or lungs of the fourth- graders sitting on blankets in a circle along the canvas walls. Above, there was a vent for the smoke.
"There are lots of different kinds of tepees," said Wes Jones, who'd brought two of his and set them up in front of the school.
"Mine has big smoke flaps," Jones continued, "like the kind used by the Sioux."
Lessons in Native American history began first thing Monday morning in Struthers, and they'll continue through Thursday. Every class in the school will get a chance to visit with Jones inside his tepee.
"Tepee, in Sioux, just means lodge," said Jones, of Steubenville, who uses the Sioux spelling in the name of his business, Native Life Tipi Rental.
Rent a tepee? Yes, you can. The traditional housing of nomadic Native American tribes is now great for birthday parties, camp-outs and Super Bowl parties.
If you really want to impress your spouse, a tepee can even make a great Christmas gift.
Though Jones' great grandmother was a Shawnee Indian, it was his wife's love of Native American culture that inspired him to buy his first tepee — as a Christmas surprise for her last year. He began his rental business in the spring.
His school program is a community service, he said, and it proves without a doubt that ushering kids into a tepee complete with Native American artifacts is a no-fail way to get their attention. Pass around a real buffalo tooth, an arrowhead, a piece of buffalo hide and a drum made of animal skins, and you'll have that attention, undivided.
"Awesome!" summed up their feelings, a lot.
Jones' tepees are made of cotton canvas, he said, but back in the days when buffalo numbered in the millions and the Sioux followed them on the Midwest plains for food, women used buffalo hides to make tepees. Their needles were made of bone, and their thread was buffalo sinew.
It took 25 buffalo hides to make a tepee, and the woman who made it owned it, he said.
"So if women make it, it's theirs?" asked Macey Scerba.
"That's fair, right?" asked teacher Anna Marie Horvath.
Amid calls of "yes!" from the girls and "no-oo-oo" from the boys, Jones explained that women were very powerful in the tribes.
"If a woman wanted to divorce a husband, she'd set his things outside the tepee," he said.
Behind their fires in their tepees, Native Americans maintained an altar, which was simply a bare spot to remind them of the earth, Jones said. On the altar in his tepee Monday, he had some items that he said could be used to take better care of the earth.
"Find things you can use over and over," he said, holding up a cloth shopping bag.
A reusable water bottle, he said, is better than buying more plastic bottles.
"The Indians would use gourds, over and over," he pointed out.
While they are saving the earth, Jones told his students, they should get out and enjoy it, too.
His best advice? "If anyone ever says to you, 'Take a hike,' say, 'Thanks, I think I will.'"