Valley legal team faces up to prostate cancer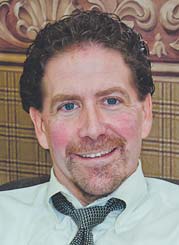 ---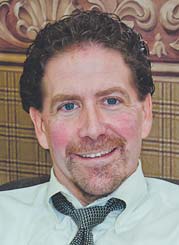 Photo
Atty. Patrick K. Wilson shows off his new facial hair to raise awareness of cancers common among men.
WARREN
Patrick K. Wilson had his son Liam in mind when he persuaded eight fellow attorneys from the Harrington, Hoppe & Mitchell law firm to grow mustaches and beards as part of a worldwide movement in November to raise awareness and funds for men's cancer issues.
For Wilson, the movement called Movember, hits very close to home.
Because prostate and testicular cancer are rampant in his and his wife's family, he sees Movember as a way to improve 8-year-old Liam's future.
Wilson, 48, was diagnosed with an aggressive form of prostate cancer in December 2009.
Because he wanted to see his daughter, Mara, compete in the upcoming Irish Dancing World Championships in Glasgow, Scotland, he opted to use medicine to prevent the cancer from spreading and underwent surgery in April 2010. His surgeon was Dr. Dan Ricchiuti. The cancer had not spread beyond the prostate and he remains cancer free.
Wilson, who grew up and lives in Warren and graduated from JFK High School, is not the only male in his family to face cancer.
His father, Thomas, died of prostate cancer in May 1996, His father-in-law, Dr. Jerome Stanislaw, died of prostate cancer in July 1997.
Wilson's brother, Terry in Indiana, was diagnosed with prostate cancer in 2008 and was successfully treated with surgery, and another brother was diagnosed with testicular cancer in his 20s and has been cancer free for many years.
Because of his family history, Wilson, who is the Cortland city law director, was surprised but not shocked by his diagnosis ... surprised because he had no symptoms.
A strong advocate of annual physicals for men, Wilson said his cancer was caught by a PSA blood test during a regular physicals, and because it was caught early it had not spread beyond the prostate gland.
Prostate-specific antigen (PSA) is a substance produced by the prostate gland. Elevated PSA levels may indicate prostate cancer or a noncancerous condition such as prostatitis or an enlarged prostate.
"I was never angry and I never said 'why me.' But, I was determined to treat the cancer aggressively and found an aggressive doctor to do it. We thought I'd be able to beat it because of my age and because it was caught early," he said.
His said his wife, Elisabeth, also a JFK graduate and a seventh grade teacher at Lakeview Middle School, went with him when the doctor gave him the diagnosis.
"After the surprise wore off and we had a plan in place, we sat down and told the two older girls, Madeline and Laurel, now 19 and 16. My wife is 100 percent supportive. She lived through it with her father and is an extremely good and effective caregiver," Wilson said.
"We have to thank our Australian brothers who started Movember. What better way to fight cancer than to have some fun and grow some facial hair," he said.
Wilson's nephew Conor Shanahan, a student at St. Louis University, got Wilson involved in Movember in 2010 when Shanahan's fraternity took it on as a project. Wilson grew a goatee.
A year later, he said, "why not get my partners involved. I approached the firm and got an overwhelming response. I'm honored by the outpouring of support of the partners, and excited about the prospect of providing support for research for a disease that affects many men and may possibly affect my son someday," he said.
Last year, the U.S. Movember campaign raised $2.5 million for the Prostate Cancer Foundation with nearly 65,000 participants.
Clients, friends and family of the firm, and the community at large, are encouraged to track the progress of participating attorneys' facial hair growth by visiting the firm's website at www.hhmlaw.com.
Besides Wilson, participants are Attys. Chris Baronzzi, Marty Boetcher, Fritz Coombs, Paul Dutton, Jess Enyeart, Bill Hawley, George Millich and Alan Wenger.
"The cause is near and dear to me as someone who was diagnosed with prostate cancer at age 46 and whose father and father-in-law both passed away from the disease," Wilson said. "I've been cancer-free since April 2010, but I'm one of the lucky ones. So much more research is needed to help fight cancer, and anything I can do to support fundraising efforts, I will do."