Social-networking sites click with neighborhood groups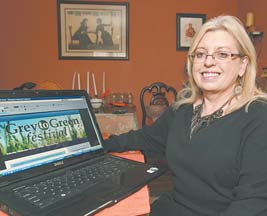 ---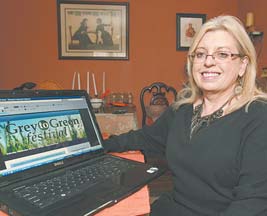 Photo
Debra Weaver of Youngstown, a member of the Wick Park Neighborhood Association, uses social media extensively to connect with members.
By Kacy Standohar
YOUNGSTOWN
Ken Stanislaw and fellow members of Lansingville Block Watch, the oldest such group in the city, call one another monthly on telephone land lines to organize meetings and stay informed.
Stanislaw, its president, just learned how to use a speakerphone and recently accomplished his first three-way call.
So don't expect his group of 10 or so — mostly senior citizens — to use email, Facebook or Twitter anytime soon.
But Lansingville is an exception. Youngstown's block watches and neighborhood groups are beginning to flourish — growing from 10 or so a couple years ago to more than 45 now. And social media is fueling much of the neighborly connections and activism, with eight using Facebook.
Debra Weaver, member of the Wick Park Neighborhood Association and creator of Youngstown's Grey to Green Festival, says social networks are key tools for neighborhood action.
"We use Facebook and Twitter for basically any activities or meetings. It's fabulous. I can't even imagine trying to organize without it at this point," Weaver said.
One message on the Wick Facebook page reads, "Okay. Who's up for some late-evening walks in the newly brightened Wick Park this week or next week? I'm thinking about 8:30 or 9 p.m., just after dusk. Let's get a group of at least five people together. Who's in?"
By 12:25 p.m. that day, the post already had 14 comments underneath, all from interested participants.
Phil Kidd, a community organizer at Mahoning Valley Organizing Collaborative, works with the Youngstown-area watch groups. He said about eight neighborhood groups actively use Facebook.
The MVOC Facebook page currently has 371 likes, and its page was created in September 2009. The Wick Park Neighborhood Association's Facebook page started in March and has 111 likes.
The 7th Ward Citizens Coalition's Facebook page was created this August and has 132 members.
Treez Please has 170 members on Facebook; it began in May 2009.
If there is a local king of social media organizing, it is Kidd. He created the civic-minded Defend Youngstown movement six years ago, which soon found a niche on a website and on Facebook.
His Defend Youngstown Facebook page, created this July, has 5,478 likes. But it had the instant benefit of his years of personal networking. He also uses his personal Facebook page and the MVOC web page.
Kidd also assists block- watch groups in producing video content and posting each video on YouTube. He recently posted a video for the Handel's neighborhood group and the 7th Ward Citizens Coalition.
Kidd said blogs work well, too. They allow members to communicate with other groups and post meeting dates, meeting minutes and links.
"They serve the purpose of what a block watch actually needs. Groups are now able to network across the city," he said.
Adam Earnheardt, associate professor of communication studies at Youngstown State University and author of "The Modern Communicator," said social-networking sites are more "geographical and will have more success because they open up so many community channels."
He added these sites provide users with a "virtue of interest in the same thing."
One of Weaver's big interests is the Grey to Green Festival. Weaver used Facebook to inform others of the festival's new focus and goals for this year's September event.
"This years' festival emphasizes climate change and the devastating impact of global warming as we focus on making personal commitments to reduce our carbon footprint," she posted.
Around the city, Facebook and Twitter are used to organize park cleanups, missing dog searches, house move-ins, raffle tickets and local fundraisers.
Kidd believes these ideas are in their infancy and will grow.
But some groups will hold onto their phone trees — as with Lansingville.
Stanislaw and members of the Lansingville block watch meet once a month at St. Matthias Church on Cornell Street. He does not expect to see Facebook in the near future.
"Most [group members] don't have computers so that [idea] is out. I myself don't use the computer as often or as much as I would like," Stanislaw said.
Despite the tech gap, Lansingville meeting topics usually consist of crime concerns — just like their digital cousins.
"It's usually about who did what, speeding on Cooper Street," Stanislaw said. "And we have a resident prostitute. She is talked about a lot."
The NewsOutlet, which pairs student journalists with professionals, is a collaboration among Youngstown State University, Kent State University, the University of Akron, The Vindicator, Akron Beacon Journal and Rubber City Radio.