Pair's book pays tribute to Valley's Slovak heritage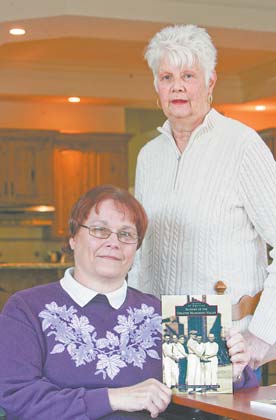 ---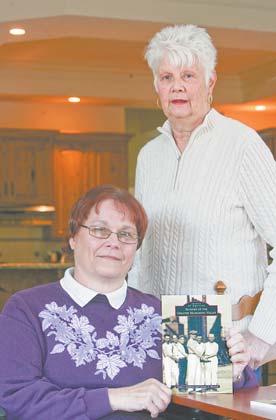 Photo
Loretta Ekoniak, left, of Canfield and Susan Summers of West Middlesex, Pa., coauthored a book called "Images of America: Slovaks of the Greater Mahoning Valley." They have scheduled two book signings in the Valley.
By Elise Franco
Youngstown
Susan Summers and Loretta Ekoniak couldn't sit by and watch their Slovak heritage fade into the background.
Instead, the pair spent more than a year gathering stories, facts and photos from more than 100 Slovak families in the Mahoning Valley and compiled all into a book.
"Images of America: Slovaks of the Greater Mahoning Valley" was released by Arcadia Publishing in September, and since then, Summers, 68, of West Middlesex, Pa., said thousands of copies have been sold and distributed throughout the U.S. and parts of Europe.
"We'd both entertained the thought of writing a book for quite a few years," she said. "As you get older, you see history become lost. So I went for it and called Loretta."
Ekoniak, 58, of Canfield, said she and Summers, who originally is from Campbell, didn't know each other before writing the book, but both were members of the American Slovak Cultural Association.
Ekoniak said they both always had an interest in learning more about their ethnicity, and writing the book together was a great collaboration.
"The book covers from the later 1800s up through about the 1960s," she said. "We had more than 100 families contribute to the book, and after the book came out, we counted and have close to 500 Slovak family names in it."
The Slovaks who came to the Mahoning Valley were from what is now Slovakia, formerly Austria-Hungary, according to the book.
The book features pages of submitted photos. One of Summer's favorites, on page 104, is of a man named Paul Garcar who is seen kneeling in front of his brother's grave in 1945. Garcar's brother, T. Sgt. Andrew Garcar, was killed in action on New Year's Eve 1944.
"It's all very dear to my heart, but this one is very moving, in my opinion," she said.
Ekoniak chooses the last photo in the book, on page 127, which is of Andrew and Joseph Hirt enjoying a toast. Under the photo reads, "Na zdravie! Bohom," which means "To your health."
Summers said she hopes the book will preserve the heritage and serve as a way for future historians to easily access information about Valley Slovaks.
"With the passing of time, the book will be beneficial to researchers coming in behind us, especially for genealogy purposes," she said.
Summers said the pair sat down for a book signing several months ago at Barnes and Noble in Boardman but didn't expect much of a crowd. The store ended up selling out of the almost 100 copies in stock.
They're scheduled for another signing at Barnes and Noble from 2 to 4 p.m. Dec. 3.
"It was so successful because I think people have a thirst for their ethnicity and want to connect to their roots," Summers said.
Even though their book went to print months ago, the women said they haven't stopped collecting Slovak artifacts. They hope to eventually write a second book where the first left off.
"We haven't stopped," Ekoniak said. "We're still gathering."