Mistakes cost YCS in loss to Shadyside
Youngstown Christian football vs. Shadyside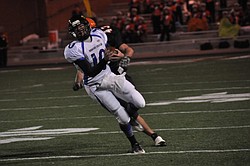 Gallery
Team

| Record | Div. | Conf. |
| --- | --- | --- |
| 2/5 | Div. VII | Portage Trail Conference (Metro) |
The Eagles lost fumbles inside the Tigers' 10.
By Rob Todor
NEW PHILADELPHIA
Too many turnovers and too many missed tackles proved to be a deadly combination for Youngstown Christian on Saturday night.
The Eagles had their share of big plays, but Shadyside's Brooks Ramsey and Austin Dorris were more consistent, leading the Tigers to a 27-24 victory in a Division VI, Region 21 semifinal on Saturday night at Woody Hayes Quaker Stadium.
Ramsey, Shadyside's junior running back, rushed for 166 yards on 28 carries. He did the dirty work, and Dorris, a 6-foot-4 freshman quarterback who was pressed into duty, reaped the rewards, scoring three touchdowns.
Dorris, who replaced injured starter Chase Kinemond in the game's first series, rushed 16 times for 59 yards. His biggest play was a huge 20-yard run on third-and-18 that gave the Tigers a first down with just over two minutes left in the game.
Youngstown Christian never got the ball back after that play.
"We had to overcome a lot of adversity," said Shadyside coach Mark Holenka. "But the kids deserve the credit for making the plays."
That key play was an epitome of the Eagles' defensive woes all game long — missed tackles.
Offensively, Youngstown Christian had more than 300 total yards, but two lost fumbles — both inside the Eagles' 10 — set up Shadyside turnovers.
"Those two turnovers just killed us," said Youngstown Christian coach Brian Marrow, who led the Eagles from a 1-9 finish in 2010 to a 10-2 mark this season. "But even with all those mistakes we still had a chance to win it at the end."
Anthony Abeid led Youngstown Christian with 76 yards on just 11 carries, and he had a touchdown. Darien Townsend caught four passes for 70 yards and a score.
Quarterback Emmit Underwood was 8 of 16 for 207 yards.
"We gave up a number of big plays," said Holenka. "But I think for the most part we kept them in check."
Youngstown Christian led 17-13 at halftime, but the Tigers went on 10-play, 75-yard drive that chewed up more than five minutes and took the lead on Dorris' second TD, a 10-yard run, with 3:01 left in the third.
A fumble recovery at the six set up Dorris' last score, with 8:23 remaining.
Underwood's 4-yard scoring pass to Darien Townsend made it 27-24 with 2:21 to go, but Shadyside was able to run out the clock.
"I'm so proud of our kids and our coaches," said Marrow. "The kids worked their tails off in the offseason to make this season possible, and I think we're going to get more kids out next year. Hopefully, now that we've got a taste of what it takes, we'll get back here next year and even further."
Senior wide receiver/defensive back Khris Lewis was injured late in the game and transported by ambulance to a local hospital. Marrow said Lewis had a neck injury and was telling teammates he was OK.
Big plays set up all the scoring in the first half.
Youngstown Christian's first punt was partially blocked, giving the Tigers possession at the YCS 43.
Six plays later Dorris rambled around left end for the touchdown. The two-point conversion failed, leaving Shadyside ahead 6-0 with 7:18 remaining in the first quarter.
YCS answered with a six-play, 63-yard drive to take the lead.
Underwood's 50-yard pass and run and Devaun Adams gave the Eagles a first down at the Shadyside 11, and three plays after that, the junior found Drevon Green alone in the right flat for an 8-yard touchdown pass with 4:01 to go. Dom Polito added the extra point.