Girard vs. Black River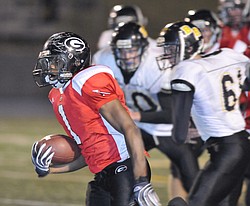 Gallery
Team

| Record | Div. | Conf. |
| --- | --- | --- |
| 9/2 | Div. IV | All-American Conference Blue Tier |
Led by Ahmad Eggleston, Indians roll past Black River
By Tom Williams
Hartville
For a brief moment early in Saturday's Division IV Region 13 semifinal, the Sullivan Black River High football team enjoyed momentum and had hope.
Make that a very brief moment.
Girard's run-and-gun speedsters immediately crushed the Pirates, scoring the next five touchdowns en route to a 56-14 victory at Lake High's Alumni Field.
"This is so big," senior left guard Joey Buonavolonta said as the Indians (11-1) earned their second regional championship game. "When I was a sophomore, we were right here and we lost. We knew what to expect."
The Pirates (8-3) had no answer for senior tailback Ahmad Eggleston who enjoyed a quarter most players can only dream of celebrating. In the second quarter, Eggleston had three touches for three touchdowns for 163 yards as the Indians raced to a 42-7 halftime lead.
Buonavolonta said watching Eggleston run "is the best feeling in the world. On the first play of a drive, seeing it go for a touchdown is the best."
Eggleston rushed for 230 yards on 12 carries (205 in the first half), scoring touchdowns of 34, 58 and 71 yards.
"It's not me, it's my line," said Eggleston, who said he can't remember having a better quarter in a bigger game. "It hasn't [sunk in] yet, but it will."
Saturday, Girard will play Norwayne in the regional championship at a site that will be announced this afternoon. Girard's other regional final was in 2002, a loss to Ursuline.
Senior quarterback Dan Graziano passed for 193 yards, including touchdown passes to Branden Byrd covering 37 and 68 yards. The long one was a beauty as Graziano hit Byrd on the fly at the 20.
"We're carrying a lot [of confidence]," Byrd said. "Black River was a good team but we came together as a family. When we play as a family, no one can beat us."
The Indians ran the ball 34 times for 369 yards.
"Our kids played well," Girard coach Nick Cochran said. "[Ahmad] ran hard, Danny made some good throws and Byrdie did some good things. We've just got to keep it going.
"Our defense bent a little bit, but it didn't break," Cochran said,
The Indians struck first as Graziano rambled 42 yards for a 7-0 lead.
After holding the Pirates to a three-and-out, the Indians were poised for a second score when the Pirates capitalized on one of the Indians' few mistakes — a fumbled exchange.
Austin Phillips recovered the ball at the Black River 31 and the Pirates marched 69 yards on eight plays to tie the game on Andrew Vaughn's 3-yard run.
"You always get worried, but our kids bounced back from some adversity there," Cochran said.
Eggleston said the fumble and long drive "knocked us off, but I didn't think it would knock us out."
Four plays later, Byrd caught his first scoring pass for a 14-7 lead.
The Indians added four more scores in the second quarter and foiled the Pirates on the final play of the half as Byrd intercepted Dakota Kuntz's pass in the end zone.
Citing how the Pirates scored on their first possession of the second half, Cochran said his team has things to work on.
"You can't give up points that easily," Cochran said. "They went right down the field on us — that can't happen. That's not what championship teams do."
Austin Phillips led the Pirates with 196 yards on 24 carries.
"We didn't tackle [Phillips] real well all day," Cochran said.