Mooney vs Stubenville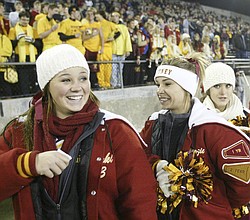 Gallery
Team

| Record | Div. | Conf. |
| --- | --- | --- |
| 7/5 | Div. IV | Independents |
By Joe Scalzo
CANTON
More than 6,000 fans were holding their breath, the Steubenville cheerleaders were covering their eyes and 21 of the 22 players on the field — and 100 more on the sidelines — were watching their playoff lives come down to a 5-foot-7, 140-pound kicker that had missed three extra points the week before.
It was dramatic. It was fitting. And it was, well, a little weird.
Just like Friday's game.
With nine seconds left in a Division III regional semifinal at Fawcett Stadium, Cardinal Mooney senior kicker Conor Durina lined up for a 30-yard field goal that would either give the Cardinals a two-point lead or send them packing.
What was he thinking?
"Just ... nothing in my head," he said. "Just kicking."
The snap was good, the hold was good and the kick ... was .... good.
"It felt great, it felt great," Durina said.
Do you remember who hugged you?
"I think everybody hugged me," he said.
Marcus McWilson squibbed the ensuing kickoff near the left sideline, where Big Red picked it up, lateraled backward and fumbled. The Cardinals dove on it as a pileup ensued, securing a 24-22 victory that gave Mooney a 6-1 advantage against Steubenville all-time.
"Most of us have been playing together since fifth or sixth grade and it's like a band of brothers," said McWilson. "We know we can't quit until the clock hits zero, no matter how far we're down.
"We just got to keep fighting, keep punching every single play and hopefully come back with the victory. Today, that's what we did."
The game-winning drive came after Steubenville took a 22-21 lead on an 11-yard pass from Marcus Prather to Evan Westlake with 1:56 left.
Prather's conversion pass fell incomplete.
Mooney took over at its own 29 and immediately picked up 15 yards on a personal foul when Najee Murray was flagged for a helmet-to-helmet hit on Mooney receiver Ryan Farragher.
Farragher, who was on the ground for several minutes, took just one play off, catching a 17-yard pass on second down to bring the ball to Big Red 39. A false start penalty — one of four on Mooney — moved it back to the 44 and Quinn's next two passes fell incomplete.
On third down, Quinn again hit Farragher, this time for 13 yards, to set up a fourth-and-2 at the 31. The Cardinals were then flagged again for a false start, but Quinn hit Quincy Jones for a 16-yard completion to the 20.
Then things got really interesting.
Roosevelt Griffin, who ran for 150 yards and scored two TDs, was hit for a 2-yard loss on first down and lost the ball at the end of the play. The officials called the play dead and when a Big Red player held the ball too long, pleading his case for a recovered fumble, the umpire flagged him for unsportsmanlike conduct, moving the ball to the 11.
Two plays later, Durina hit the game-winner.
"It was one of those games where momentum kept swinging back and forth and we had to find a way to swing it back in our favor," said Mooney coach P.J. Fecko, whose team will play Dover in next Friday's regional final.
"On that last drive, we were just trying to score points."
McWilson had seven tackles and two interceptions as the Cardinals (8-3) held Steubenville (11-1) to just 34 rushing yards on 27 plays.
"Marcus did a good job tackling and really our whole defense played well," said Fecko. "We did a great job against the run. We gave up a pass play here or there, but in the big picture, they played pretty well."