---
Friday, November 11, 2011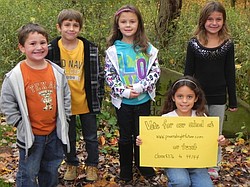 Photo
Neighbors | Sarah Foor .A group of Union students showed their love of the outdoors and added their support to the school's nomination for a Clorox "Power a Bright Future" grant. Student Mary Liddle (kneeling) shared voting information on a sign that shares, "Vote for our school at www.powerabrightfuture.com or text clorox8376 to 44144."
By SARAH FOOR
Union principal Mike Masucci and the school's Parent Teacher Organization are working together to bring a greenhouse to school grounds.
Although the funding will be provided by the PTO, Union parent Julie Liddle knew that the school could use any help they could get.
The Clorox "Power a Bright Future" contest will award four $25,000 grants and one $50,000 grant to help fund academic or extracurricular programs in schools across the country and Union Elementary is now a nominee in the contest to provide for their future greenhouse.
"In my history as an educator, I've learned that teachers have to entertain as well as educate. Along with our outdoor classroom, our greenhouse will provide a protected planting area for the kids to enjoy growing flowers, vegetables, and participate in community service projects. It will help bring our teacher's lessons to life," explained Masucci.
With or without the potential grant, Masucci and the PTO hope the have the greenhouse up and running in three years.
"It is a national contest and it may be a tough one, but I want the students to learn to try something new even if it looks difficult," Masucci added.
To help Union in its quest, vote for the school once a day by searching for Poland at www.powerabrightfuture.com and adding your vote. Supporters can also text "clorox8376" to 44144 to vote for the school. Voting ends Dec. 9.