Unanswered questions, scandal haunt PSU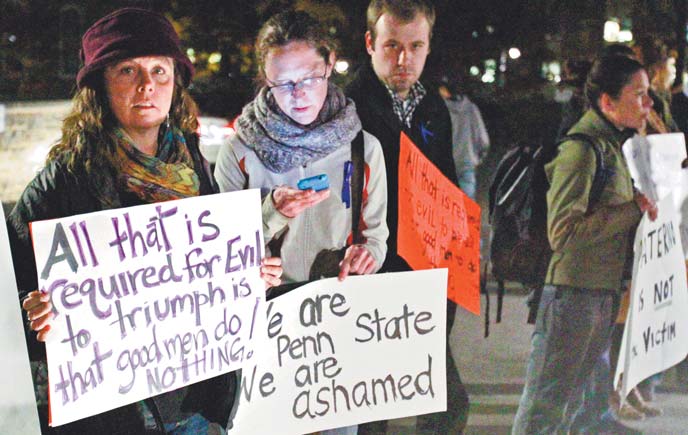 ---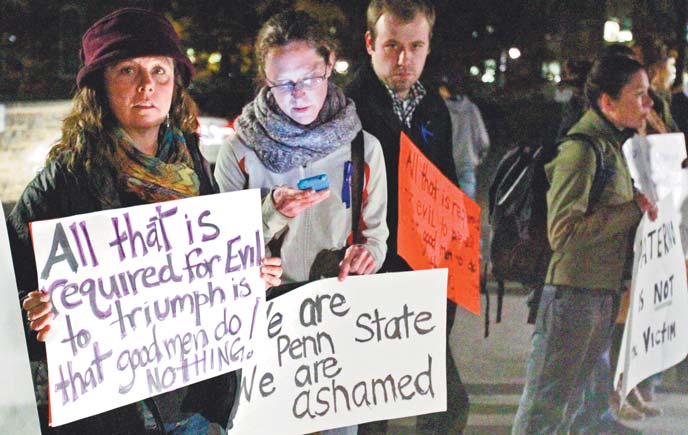 Photo
Penn State students stand outside the Old Main building on campus in State College, Pa., on Wednesday protesting the handling of a child abuse scandal involving retired Penn State assistant football coach Jerry Sandusky. PSU trustees fired head football coach Joe Paterno and university president Graham Spanier because they didn't do enough to alert law enforcement authorities.
Associated Press
State College, Pa
Just because Joe Paterno is gone doesn't mean the child sex abuse scandal at Penn State is over.
Many questions remain unanswered — from how much Paterno actually knew to whether there will be any repercussions for assistant coach Mike McQueary, who told Paterno but not police about seeing former assistant coach Jerry Sandusky in a shower with a young boy in 2002.
Defensive coordinator Tom Bradley, Paterno's lead assistant on the field for the last 11 seasons, was introduced Thursday as the interim coach.
A few hours later, Gov. Tom Corbett told reporters that he supported the board of trustees' decision Wednesday to oust college football's winningest coach and President Graham Spanier because they didn't do enough to alert law enforcement authorities.
"Their actions caused me to not have confidence in their ability to continue to lead," said Corbett, who is on the board and is in State College for another, previously scheduled session.
Sandusky, Paterno's former assistant and onetime heir apparent, has been charged with molesting eight boys in a 15-year span. In the week since the grand jury released its report, Paterno and Spanier have been fired and two other top university officials also are out.
"Certainly every Pennsylvanian who has any knowledge of this case, who has read the grand jury report, feels a sense of regret and a sorrow to also see careers end," Corbett said. "But we must keep in mind that when it comes to the safety of children, there can be no margin of error, no hesitation to act."
Board vice chairman John Surma said in announcing the firings of Paterno and Spanier, one of the longest-serving college presidents in the nation, that "change was necessary."
"To allow this process to continue was going to be damaging to the university," Surma said.
Bradley, who testified before the grand jury, declined to reveal what he said, but added: "We all have a responsibility to take care of our children. All of us."
Even Paterno himself acknowledges he should have done more.
McQueary, who is Penn State's wide receivers coach, told a state grand jury that in March 2002, he saw Sandusky sodomizing a boy of about 10 in the showers at the Penn State football building.
McQueary later told Paterno, Curley and a university vice president, Gary Schultz about the incident, although it is not clear how detailed his description was. Schultz, in turn, notified Spanier.
Curley and Schultz — as well as Paterno — testified that they were told that Sandusky behaved inappropriately in that 2002 incident, but not to the extent of McQueary's graphic account to the grand jury.
Curley and Schultz have been charged with perjury and failure to report the incident to authorities, as required by state law. Curley is on temporary leave and Schultz has retired. Through his attorney, Sandusky has denied the charges.
Paterno is not a target of the criminal investigation, having fulfilled his legal duties by reporting the incident to Curley and Schultz. But the state police commissioner called Paterno's failure to contact police or follow up on the incident a lapse in "moral responsibility."
Paterno has not said why he didn't go inform law enforcement authorities, nor has he said whether he was aware of any earlier alleged assaults.
Late Thursday, Penn State announced that McQueary won't coach on Saturday because "multiple threats" have been made against him.
The university released a statement Thursday night saying it would be "in the best interest of all" if the receivers coach didn't attend the game against Nebraska at Beaver Stadium.