Paterno ousted at PSU; Bradley to coach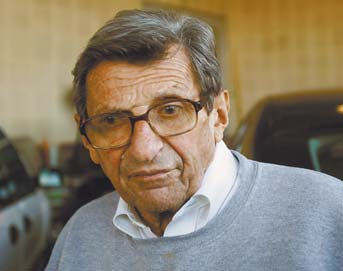 ---
Staff/wire report
STATE COLLEGE, Pa.
The day was always coming. The old coach was 84, and each new season brought questions whether it would be his last. No one, though, expected it to happen quite like this.
The Penn State board of trustees voted unanimously to fire football coach Joe Paterno on Wednesday night amid the growing furor over how the school handled sex abuse allegations against an assistant coach. Penn State president Graham Spanier also was ousted.
The massive shakeup came at the end of a day that started with Paterno announcing he planned to retire at the end of his 46th season, saying he wanted to finish with "dignity and determination." But the board decided he had to go immediately.
"The university is much larger than its athletic teams," board vice chair John Surma said during a packed press conference.
Paterno and Spanier were informed of the decision by telephone.
"We were unable to find a way to do that in person without causing further distraction," Surma said.
Earlier in the day a tearful Paterno, who won more games than any coach in major college football history, stood in an auditorium in the Penn State complex and told disbelieving players that he planned to retire at the end of the season.
Not because he was too old or couldn't win anymore, but because of the child sex abuse scandal involving longtime assistant coach and onetime heir-apparent, Jerry Sandusky.
"Success With Honor" was ending in disgrace, and the tears flowed from behind the thick eyeglasses.
"In all the clips I've seen of him, I've never seen him break down and cry," quarterback Paul Jones said.
Cornerback Stephon Morris said some players also were nearly in tears themselves.
"I still can't believe it. I've never seen Coach Paterno like that in my life," Morris said.
"He spent his whole life here, and he dedicated everything to Penn State," added safety Nic Sukay. "You could really feel that."
Lock Beachum, whose son Brandon is a junior running back at Penn State, said he's "very angry, very upset that something like this could happen anywhere, let alone Penn State University. The entire situation is heinous."
The younger Beachum, a Cardinal Mooney graduate, is one of two area players on Penn State's roster, along with Mooney graduate Michael Zordich, a junior fullback.
"It was a very difficult day for Brandon today, as well as his teammates," Lock said. "But Brandon will be fine. He's 21, about to be 22. He and the rest of the players will have to adjust to all the changes that are going to take place and they will.
"They're not the victims in this situation. The victims are those kids that were violated."
Zordich's father, Mike, was an All-America safety for Penn State in 1985 and was a four-year letterman during Sandusky's tenure. Now the safeties coach for the Philadelphia Eagles, Zordich did not return a call seeking comment.
"I can only imagine what Mike is feeling right now," said Lock. "To have played for Coach Paterno and have a son on the team, it's got to be very difficult."
Howland senior offensive lineman Anthony Stanko committed to Penn State in March — the only area commitment to the Nittany Lions. In an email, he declined comment Wednesday but still has "I am committed to be a Penn State football student-athlete" on his Facebook page. Stanko (6-5, 295) also has FBS offers from Northwestern, Stanford, West Virginia, Kent State, Akron, Bowling Green and Toledo.
Former Penn State quarterback Daryll Clark, an Ursuline High graduate, did not respond to a text seeking comment but posted on his Twitter page "So hurt right now ... OMG."
Lock said he read the complete list of allegations against Sandusky in the grand jury report available online.
"I almost cried reading it," he said. "It made my heart bleed but I wanted to know. I wanted to know if what they were saying happened.
"I'm very angry and very disappointed that nothing was done years ago that could have possibly prevented it from happening again."
Penn State hosts Nebraska in its final home game of the season, a day usually set aside to honor seniors on the team. Penn State is 8-1 this year, with its only loss to powerhouse Alabama. The Nittany Lions are No. 12 in The Associated Press poll.
After 19th-ranked Nebraska, Penn State plays at Ohio State and at No. 16 Wisconsin, both Big Ten rivals. It has a chance to play in the Big Ten championship game Dec. 3 in Indianapolis, with a Rose Bowl bid on the line.
"These are enormous distractions that the kids are dealing with," Lock said. "How that plays out Saturday afternoon, we'll see. But the kids aren't acting like this isn't bothering them.
"Life has changed. Fortunately we're at the tail end of the season."
Regardless of what happens, Lock told his son he won't understand the enormity of the situation until years later.
"I told Brandon he'll be a grown man with a family and children of his own before he realizes how major a deal he was part of," Lock said. "It's hard to grasp something of this magnitude while you're still living through it."