Bench players key for YSU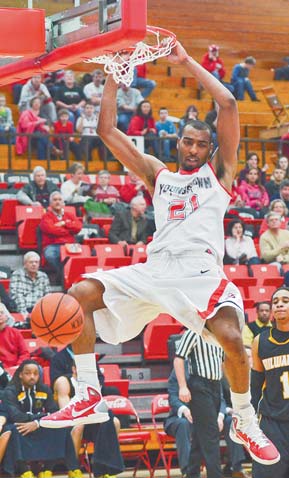 Photo
Youngstown State's Damian Eargle dunks during a game last season against Milwaukee at Beeghly Center. Eargle will be one of the Penguins' most-counted on players for the 2011-12 season, which tips off on Saturday night at Samford.
By Joe Scalzo
YOUNGSTOWN
At this time last year, the question keeping YSU men's basketball coach Jerry Slocum up at night was, "What do we have?"
Not this year.
Not with at least two players capable of earning all-league honors in junior forward Damian Eargle and sophomore guard Kendrick Perry.
Not with a starting five that combined to play in 149 of a possible 150 games last year.
Not with a good balance of outside shooters (Ashen Ward and Blake Allen finished 1-2 in 3-pointers), defenders (Eargle led the league in blocked shots) and slashers (both Perry and DuShawn Brooks can create their own shot at any time).
No, the question keeping Slocum up at night this year is, "What else do we have?"
"Our reserves are a major concern for me," said Slocum, who is 58-121 in six years with the team. "I thought we'd be a little further along than we are.
"[The preseason] hasn't gone as great I'd hoped."
YSU was picked to finish seventh in the preseason Horizon League poll — its best finish in 10 years — but to finish in the top half of the standings, it will need more from its bench, specifically sophomore forward Josh Chojnacki and redshirt freshman forward Fletcher Larson.
"The guys who have played the best are our two freshmen in D.J. [Cole] and Cale Zuiker," Slocum said. "Our other guys, as I said to them today, have got to improve quick. As you know, all the sudden you can go in there on the road and — bam, bam — you've got some foul trouble and those guys are going to have to play significant amount of important minutes.
"Those guys clearly have to play better."
YSU plays 16 of its 29 games on the road, beginning Saturday in Birmingham, Ala., against Samford. The Penguins beat the Bulldogs 64-61 in last year's season opener at Beeghly Center.
Samford, which went 12-19 last year, returns three starters and nine lettermen, including its best player, Jeffrey Merritt. The senior guard led the team in scoring (10.3 points per game), rebounds (6.3), assists (2.0) and steals (1.2).
The Bulldogs run a Princeton-style offense that relies heavily on spreading the floor and finding backcuts.
"It's a hard game to play because they play such a different style," said Slocum. "Everything we've taught through the preseason kind of goes out of the window."
YSU will then return to Beeghly Center for back-to-back home games against Notre Dame College (Nov. 15) and UC-Riverside (Nov. 18) before road games against Penn State (Nov. 23) and St. Francis (Nov. 26).
"We feel good; we have a lot of confidence after our scrimmage this weekend," said senior guard Ashen Ward, who turned 22 on Sunday. "We're just building and learning off that experience, the offseason and this fall, just preparing, defensively and offensively, to get ready."