YSU defense starts to come around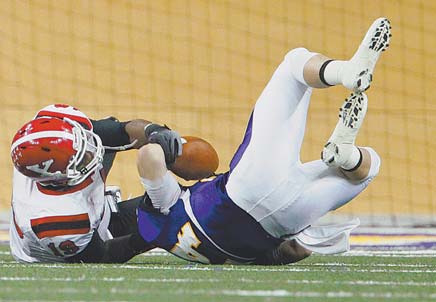 ---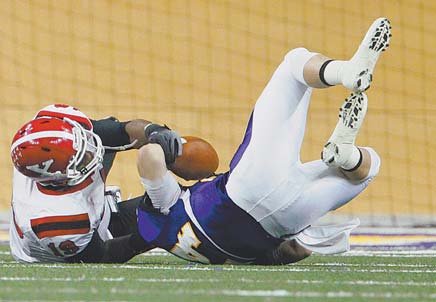 Photo
Youngstown State's Daniel Stewart (19) sacks Northern Iowa quarterback Jared Lanpher in Saturday's MVFC game at the UNI-Dome in Cedar Falls, Iowa. Despite losing 21-17, the Penguins' defense is starting to look like a playoff -caliber unit.
By Joe Scalzo
YOUNGSTOWN
Much of the summer talk around YSU's football program centered around the Penguins' 29 new defensive players and how much better they'd be on that side of the ball.
Through the first 51/2 weeks, it was just that. Talk.
Now they're starting to back it up.
"We're starting to come around," said YSU coach Eric Wolford, whose team lost at Northern Iowa, 21-17, on Saturday. "The defense did a lot of good things against a really good offense."
YSU held the Panthers to 30 net rushing yards on 27 carries, albeit against a team without its top running threat, quarterback Tirrell Rennie. It also forced punts on UNI's first six possessions of the second half.
"We already knew where we were going to be before camp," said senior DT Andrew Johnson, who had two tackles for loss against UNI. "We're just showing it now."
Since giving up 17 points in the first half of the Southern Illinois game, YSU's defense has looked like a playoff-caliber unit. It held the Salukis to six second-half points, shut out St. Francis and Western Illinois in the first half en route to blowout wins and held its own against perennial league power UNI.
Some of that is due to experience — YSU has started between four and five freshmen on defense for much of the season, taking its lumps early on — and part of it is the schemes. Since the loss to South Dakota State in Week 5, defensive coordinator Rick Kravitz has opened up his playbook, allowing the Penguins to create more pressure by blitzing and be less predictable.
That bodes well for next season, when YSU will return all its starters at linebacker and in the secondary.
"This program can be wherever it wants to be," said Johnson. "There's a lot of potential."
Offensively, YSU took a step backward on Saturday, scoring just 17 points — 23 points below its average and the lowest output since scoring 6 against Michigan State in the opener.
"Offensively, we weren't ready to play," said QB Kurt Hess, who completed just 17 of 34 passes for 175 yards and two interceptions and was hurt by at least three big drops by his receivers. "I don't know if the stats and the rankings got in our head, but we can't listen to those things.
"We've got to continue to focus and prepare like we know how to and that starts with me."
The loss highlighted one of the few weaknesses on QB Kurt Hess's resume through his first two years: the inability to rally in the closing minutes. After UNI took a 21-17 lead with just under two minutes left, YSU managed to gain just 7 yards on six plays before a game-ending interception.
In two of YSU's losses this year (South Dakota State and UNI) and two more last year (Indiana State and UNI), Hess and the Penguins got the ball with at least 90 seconds remaining and the Penguins trailing by a touchdown or less.
YSU lost all four.
When asked if it's weighing on him, Hess said, "No, no, no, it's not. It's one of those things we practice all the time. We need to be sharper, we need to execute better in all aspects of the offense."
Ultimately, Wolford said, games like Saturday's can be more useful in exploiting overlooked weaknesses, and showing YSU what it needs to do to compete with the league's best teams.
"Society wants everything now, but it is a process," said Wolford, whose team travels to play top-ranked North Dakota State this weekend. "We've got to continue to mature and keep working hard. We need another good offseason in the weight room and hopefully we can match up a little better."