Honorees to receive awards at luncheon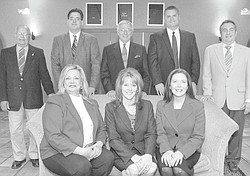 Photo
JESSICA M. KANALAS | THE VINDICATOR: The Association of Fundraising Professionals will honor several people at the National Philanthopy Day Awards. In the back row, left to right, are Dr. Rashid Abdu, director of surgical education at St. Elizabeth Health Center; Matthew Butts, president of Salem Rotary Club; J. Robert Sebo, retired Salem philanthropist; Jack Grdic, general sales manager of 21 WFMJ-TV; and Dave Mirkin, president of Comfort Keepers. In front are Liz McGarry, director of development of Hospice of the Valley and co-chairwoman of National Philanthropy Day; Linda Sebo, Salem philanthropist; and Shanna Sallmen, development officer at YSU and co-chairwoman of NPD.
BOARDMAN
The Mahoning-Shenango Chapter of the Association of Fundraising Professionals announces the names of those chosen to receive National Philanthropy Day Awards.
Individuals, businesses and organizations from the area will be honored Nov. 15 during a luncheon at Mr. Anthony's Banquet Center, 7440 South Ave. Registration takes place at 11 a.m., the luncheon begins at noon, and the awards ceremony will begin at 12:30 p.m.
Tickets cost $30 each or $240 for a table of eight. The reservation deadline is Monday. Checks should be made out to AFP Mahoning/Shenango Chapter and mailed to: Association of Fundraising Professionals, P.O. Box 672, Youngstown OH 44501-0672.
The observance of National Philanthropy Day allows Americans to focus on philanthropy as an important part of society and a local celebration to thank those who enrich the Mahoning and Shenango Valley communities.
The recipients of the awards, now in their 21st year, follow:
J. Robert and Linda Sebo, Outstanding Philanthropist Award. The couple are widely known for their exceptional support of civic and charitable causes in the Salem area. Their support of education and scholarships and the promotion of economic development are among their most notable accomplishments.
WFMJ Television, Inc., Outstanding Corporate Philanthropist. Since it was established in 1953, the station has supported local, regional and national nonprofit agencies and charities. It has donated air time, money and on-air talent to improve the quality of life in the Valley and has been especially dedicated to Project Feed Our Valley.
Comfort Keepers (Dave & Jeff Mirkin), Outstanding Small Business. Their mission is to help seniors stay in their homes as long as possible. They have endowed a YSU scholarship in geriatric studies to inspire students to devote their lives to helping older adults.
Dr. Rashid Abdu, Outstanding Volunteer Fundraiser. Dr. Abdu is being recognized for his generosity and leadership in the development of the new Joanie Abdu Comprehensive Breast Care Center at St. Elizabeth Health Center. It is being named after his wife, who died from breast cancer 18 years ago. He has helped raise several million dollars for the center.
Rotary Club of Salem (Matthew Butts), Outstanding Civic Organization. The club has extended its generosity to the youth, schools, leadership programs and scholarships in Salem. It also helps support an orphanage in El Salvador.
Morris and Esther Simon, Legacy Award. Although they have passed on, their legacy to the Youngstown area will live on. They gave to many organizations and causes, especially as endowment donors of the Youngstown Area Jewish Federation.
Jeanne D. Tyler, Special Recognition for Valley Impact. Her influence in the Mahoning Valley has made a difference for many years. Her recent gift of $700,000 made it possible for the Mahoning Valley Historical Society to move forward with plans for the society's new history center in downtown Youngstown, which is being named in her honor.
For more information, call National Philanthropy Day Co-Chairs Liz McGarry at 330-788-1992 or Shanna Sallmen at 330-941-2714.
More like this from vindy.com