Mooney routs Northwest, Steubenville next
Mooney win sets up game with Steubenville
By John Bassetti
Mooney vs. Canal Fulton Northwest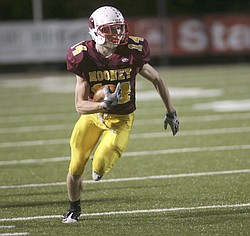 Gallery
Team

| Record | Div. | Conf. |
| --- | --- | --- |
| 7/5 | Div. IV | Independents |
YOUNGSTOWN
Good field position, a few big runs and catches and timely pressure defense enabled Cardinal Mooney to handle Canal Fulton Northwest, 46-22, in a Division III regional quarterfinal at Stambaugh Stadium on Friday night.
Roosevelt Griffin scored three of Mooney's six rushing touchdowns and the senior running back gained 148 yards on 12 carries as the Cardinals (7-3) advanced. They will play old rival Steubenville on Nov. 11.
Marcus McWilson had two running scores and P.J. Quinn another, while Quinn also threw a 37-yard TD strike to Quincy Jones for Mooney, which took a 20-0 lead after one quarter.
Griffin's TD runs covered 72, 29 and 5 yards.
Entering the game with 2271 yards in passing, Northwest quarterback Nick Riley was the big threat, along with running back Ronnie Beers, who had 1,001 yards rushing before Friday's encounter.
Yet Mooney was able to contain the weapons.
"We've seen, offensively, that they score a lot of points," Mooney coach P.J. Fecko said. "So, I think our defense did a pretty good job of giving them a bunch of different looks — they were calling a lot of stuff at the line — and it seemed like we kept them on their heels a little bit.
"We were able to get some pressure in the first quarter by mixing it up a little, then, in the second quarter, we came after them and forced them to make some quick decisions and some quick throws."
Riley was 27 of 56 for 223 with two interceptions by Anthony Dermotta and McWilson, while sophomore Marlan Emerson and Ryan Farragher had fumble recoveries.
Griffin's 72-yard TD run gave Mooney some breathing room.
"We'd seen them throw a whole bunch of people up there [front line], so we went and leveled them off and we knew that all we had to do was get through that first level," Fecko said of the run up the middle.
"There wasn't anybody there and I think that was a first-down play and Roosevelt cracked it and off he went. From there, offensively, our quarterback made a lot of good decisions that resulted in some good plays."
Griffin's effort was part of Mooney's 42-play, 290-yard rushing output.
Kickoff coverage was also a factor in the win.
"Our guys did a really good job of getting down there and Marcus [McWilson] was kicking it deep," Fecko said. "We did a really good job all night in field position [via kickoffs]."
Mooney got burned on two successful onside kicks by Northwest, but the Cardinals were able to benefit by other onside attempts.
"A few spurted out of our hands that they recovered, but, on that same token, they gave us the ball at the 50 a couple times."
Northwest coach Vic Whiting was asked if it was his intention to throw a lot as part of the game plan.
"We planned on throwing the ball 80 times," he said.
The Indians moved the ball and won the time of possession battle, but didn't get in end zone enough.
"We dropped 4 or 5 passes and we normally don't drop anything," Whiting said. "That took us out of a couple series."