Omarosa shares reality of ambition with her native Youngstown
By Elise FRANCO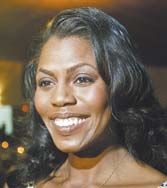 Photo
Reality-TV personality Omarosa Manigault-Stallworth spoke with reporters Thursday at the Greater Warren-Youngstown Urban League dinner in Niles.
NILES
To empower an entire community, individuals must first empower themselves.
This was the message Omarosa Manigault- Stallworth wanted to convey as the keynote speaker at the 81st Greater Warren-Youngstown Urban League dinner.
Manigault-Stallworth, who appeared on the first season of the reality TV show "The Apprentice," said she looked forward to returning to Youngstown, where she grew up.
She mentioned the recent study that named Youngstown as having the highest concentrated poverty rate in the country, and said the city's residents shouldn't be defined by such statistics.
"I don't think you are what they call you; I think you are what you answer to," she said.
Manigault-Stallworth said the Mahoning Valley's empowerment needs to begin with its children.
"In order to empower the community, focus on education," she said.
The graduate of the Rayen School also mentioned her brother, Jack Manigault, who was shot and killed in his East Avondale Avenue home in October.
"It hits home seeing what happened with my family here recently," she said. "People have lost hope. ... They have to find a way, have a clear plan of rebuilding their community."
Warren Mayor-Elect Doug Franklin was honored at the dinner as the Urban League's "Person of the Year."
Franklin, currently Warren's director of public service and safety, said he's humbled by the honor.
"This journey, for me, started 20 years ago, with the people who surrounded me and made it happen," he said. "I accept this honor in that spirit."
Manigault-Stallworth is also a known advocate for at-risk youths and the alleviation of homelessness in the United States and abroad, serves as the international goodwill ambassador for the Haiti Support Project and promotes education efforts in West Africa.
The Greater Warren-Youngstown Urban League is in its 81st year of service as the premier voice of the Mahoning Valley's minority communities. Its mission is to enable minorities to secure economic self- reliance, parity, power and civil rights.