Hilltoppers show off Halloween costumes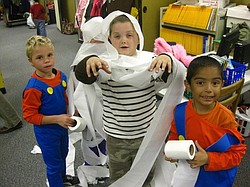 Photo
First-grade students at Hilltop Elementary had fun wrapping each other in toilet paper to create mummies during the school's Halloween celebration Oct. 28.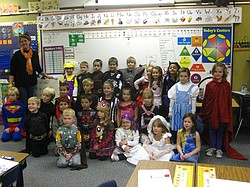 Photo
Neighbors | Abby Slanker.Hilltop Elementary School students in Carol Dede's first-grade class went all out dressing up in a variety of costumes for their Halloween parade and party Oct. 28.
By ABBY SLANKER
Students at Hilltop Elementary School celebrated Halloween with a parade and parties in each classroom Oct. 28.
Each grade had a turn to show off their costumes to their families and friends, who lined the sidewalks, as they paraded outside around the school and then entered the multipurpose room where more guests were waiting for them. Hilltop Elementary School Principal Cathy Mowry introduced each class on stage and gave their guests a chance to snap photos.
The students then paraded through the hallways and visited the other classrooms and were cheered and given high fives by their fellow Hilltoppers. Many teachers and staff members also got into the Halloween spirit by dressing in costume.
There were a wide variety of costumes, from cartoon characters to sports stars and from superheroes to video game characters. There were even some Angry Birds.
When they were finished with the parade, each class went back to their classroom for their Halloween party. PTO volunteers in each classroom provided games for the children to play, such as pumpkin ring toss and a pumpkin relay race, and crafts for the children to make, such as Halloween foam picture frames.
The Hilltop Elementary School PTO provided snacks and drinks for the parties.
More like this from vindy.com