Crestview, Cuy. Heights have traditions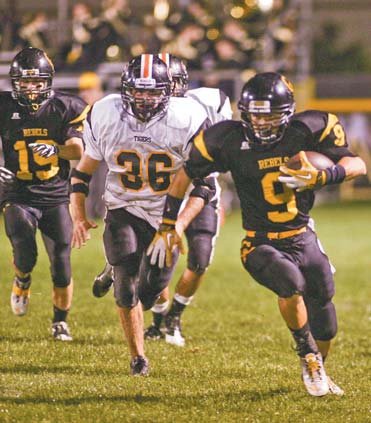 Photo
Crestview's Collin Gilbert (9) races for a big gain during the Rebels' game against the Springfield Tigers at Crestview Stadium. The Rebels square off tonight against Cuyahoga Heights in the Division V playoff s — a matchup in which both teams combined have 25 playoff appearances.
Columbiana
Mad Magazine has a Spy vs. Spy cartoon feature.
Now, between Crestview and Cuyahoga Heights, it'll be 9-1 vs. 9-1.
But their Division V matchup is no joke because the teams have a combined 25 playoff appearances.
QB Adam Coppock will be Crestview's agent 007 with 60 of 114 passes attempted for 1,007 yards.
Those numbers have produced 12 touchdowns. As a rusher, the 5-8, 170 senior has crossed the goal line 14 times while accumulating 740 yards.
Complementing Coppock is TB Nick Blower with 1,267 yards on 128 carries for 13 touchdowns.
The Rebels' nine-game winning streak started after a three-point season-opening loss to St. Clairsville.
"We're different from last year," Paul Cusick said. "We're more multi-faceted. We use a lot of guys on offense and spread the ball around well. That's one thing we do really well this year."
What is Crestview up against?
"They've got great tradition," Cusick said of Cuyahoga Heights' 15 playoff seasons. "They been a solid program that runs a good system. The kids play hard and we'll have our hands full."
Of Crestview's game plan in its first-time meeting against the Redskins, the Rebels, offensively, need to keep spreading the ball around and getting a lot of players involved.
"They really attack the line of scrimmage with a lot of stunts," Cusick said of the opponent's 5-2 defense.
Offensively, the Redskins run a Navy-like [Naval Academy] option system.
"They option all over," Cusick said. "So, defensively, we've got to be assignment-sound. We've got to be disciplined."
Crestview's top defenders are LBs Craig Lower and Kaleb Baker, DE C.J. Collins and Dillon Gorby at safety.
Lower and Gorby are the leading tacklers with 101 and 59, respectively and sack leaders are C.J. Collins (9) and Derek Peddicord (7).
Zach Moore has 47 extra points and a half-dozen field goals.
Collin Gilbert has 27 catches for 504 yards and six TDs while Nate Climo has 10 receptions for 145 yards and two scores.
Tim Good has run back punts 18 times for 142 yards, including one for a touchdown in last week's 45-7 win over Lisbon and Gorby has eight kickoff returns for 222 yards.
The tradition continues for Cuyahoga Heights, which bowed out of last year's postseason following a second-round loss to Kirtland.
"I think the tradition helps," coach Al Martin said of the success that is reflected in appearances 14 of the last 15 years.
"The kids have a lot of confidence that they're going to win."