P. Ross Berry Academy eases high school transition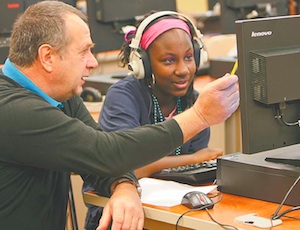 ---
By Denise Dick

Photo
Gerald Wansack, a tutor at P. Ross Berry Eighth and Ninth Grade Academy in Youngstown, helps Johntaesia Allen, an eighth-grader, work through an algebra problem using a computer program.
Youngstown
The transition from middle to high school poses challenges for some students as they wrestle with more stringent academic requirements.
That's one of the reasons the city district made changes in grade alignment among school buildings this year.
The district grouped all eighth- and ninth-graders together at P. Ross Berry Eighth and Ninth Grade Academy as part of a restructuring plan.
Previously, eighth-graders were in the district middle schools and ninth-graders attended high school.
The school has about 540 students.
"The reason that [Superintendent] Doc [Connie] Hathorn went to an eighth- and ninth-grade academy was to give kids a transition from middle to high school, so when they get into high school, they understand what needs to be done at that level academically," said Doug Hiscox, deputy superintendent for academic affairs. "In traditional high schools, a lot of time is spent with ninth-graders, getting them acclimated to that higher level of learning."
The school offers many programs, targeting academics and social-emotional issues to help with that transition.
"Historically, throughout the country, ninth grade, eighth grade, middle school is probably a more difficult transition," said Bruce Donahue, assistant principal at Berry.
Discipline records from the state show that ninth-graders comprise most of the suspensions in Youngstown as well as other districts.
"It's a difficult year," Donahue said.
It's called the ninth-grade bubble, he said.
In high-school grades, students are more responsible for their learning, Donahue said, and some students struggle with that transition.
"Kids are becoming an age when they have a mind of their own," Hiscox said. "They think they can think on their own, but they still need guidance."
Some of the programs provided are specific to the eighth- and ninth-graders including block scheduling of math and English, or double periods of those core subjects back-to-back are offered through the district. Some are during the school day while others are after school.
One program for girls who have been in trouble for fighting, being disrespectful or other problems offers counseling and activities to determine why they are acting out, Hiscox said.
Another is a sorority of female educators who work with young girls to foster self-esteem and emphasize the importance of education and goal setting.
"Many times, kids don't see a real bright future or even a future at all," Hiscox said. "They're just living for the day."
Still another provides integration of Ohio Achievement Assessment test preparation into classroom instruction through a computer program called PLATO.
"We test kids four times a year — once per grade period," Donahue said.
That allows teachers to determine students' grasp of particular subjects and concepts and gear instruction accordingly, he said.
Beginning next week, all Berry students will spend time in the computer lab with PLATO. The primary focus will be on math and reading.
Rick Fox, an eighth-grade history teacher at the school who also helps with PLATO, said the program gauges students' grasp of a topic and provides additional work to target the areas where they need help.
He said students also can log into the program from their home computers to do the work and send questions to teachers.
Eighth-graders Nadia Chatman, 14, and Johntaesia Allen, 13, worked on algebra in the lab Thursday morning.
Nadia, who said math is her favorite subject, said the program was helping her with algebra.
Johntaesia said the work was going well.
"I got them all correct," she said.
More like this from vindy.com