Ruling on brine stirs up debate
By Karl Henkel
WARREN
Andrew Blocksom could have been angry over Attorney General Mike DeWine's decision that a former environmental regulator illegally issued two brine-water permits that allow Blocksom's company to operate.
What Does Patriot Do ?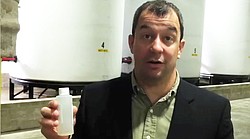 Video
Find out what Patriot Water Treatment in Warren actually does on a day-to-day basis.
But Blocksom, president of Patriot Water Treatment LLC, which treats some brine wastewater from fracking sites, had a bit of a different reaction.
"We're actually pleased to get some correspondence," Blocksom said Wednesday. "The [release from DeWine and the Ohio Environmental Protection Agency] documented some misunderstandings that are out there.
"It gives us an opportunity where we can finally answer the questions that need to be answered."
Fracking, or hydraulic fracturing, is a process in which water, chemicals and sand are blasted through pipes into rocks thousand of feet below the ground to unlock natural gas and oil.
The releases came from DeWine, who ruled Tuesday that former OEPA Director Chris Korleski illegally granted permits to both Patriot and the city of Warren, which accepts wastewater from Patriot, and Scott Nally, current OEPA director, who backed DeWine's decision.
DeWine's conclusion ultimately means both permits could be remanded by Nally, impairing Patriot's ability to treat water, maintain its current 25 employees and expand to new locations in Youngstown, Steubenville, Ashtabula and East Liverpool.
DeWine cited a statute in Ohio law that says brine water can be disposed of in only three ways and wastewater treatment plants are not one of the designated ways.
But Blocksom, who has defended his business with scientific data for more than two years, still maintains that the water treated at Patriot is not brine water.
This is where the debate gets murky.
The water Patriot receives includes mud and "little" salt, Blocksom told The Vindicator on Wednesday.
"We take fresh water with mud in it and take the mud out," he said. "Whatever fresh water is left, we give it to the city of Warren to clean again."
A video describing Patriot's process can be seen at Vindy.com.
Water that Patriot treats is water that should not be deposited into brine injection wells, Blocksom said, as it's akin to trying to shove mud into rocks.
Concentrations of salts in brines from oil and gas drilling can reach up to 300,000 milligrams per later. The concentration of salt in seawater is 35,000 milligrams per liter.
Patriot is permitted to discharge brine with a salinity level that doesn't exceed 50,000 milligrams per liter.
The problem, Blocksom said, is that state environmental regulators are applying the brine-water statute in Ohio law to the water he treats. Blocksom said the low-salinity water shouldn't be considered brine.
But according to Ohio law, "brine" includes all saline geological formation water resulting from, obtained from, or produced in connection with exploration, drilling, well stimulation, production of oil or gas, or plugging of a well.
Chris Abbruzzese of the OEPA said that by the letter of the law, OEPA is in the right.
"There's really no argument here," he said. "What they were approved to do in the past, they should not have been permitted to do, based on Ohio law."
Blocksom said he has prior approval based on a pilot study that the technology he uses — currently the only "brine" wastewater treatment plant in Ohio — is safe.
He's hopeful his future meetings with state environmental regulators will iron out the exact definition of brine, but Abbruzzese remained firm on the legal definition.
"It doesn't differentiate between a little bit salty or a lot salty," Abbruzzese said. "Brine is brine is brine."
More like this from vindy.com