For Penguins, all eyes on QB Rennie's ankle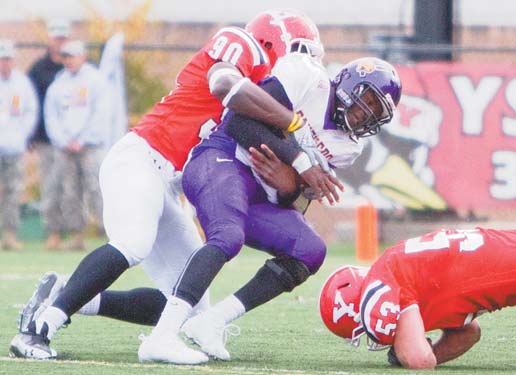 ---
By Joe Scalzo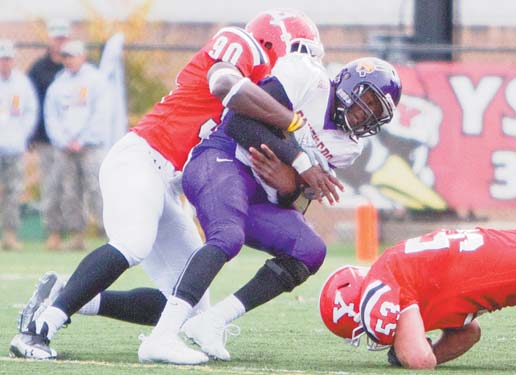 Photo
Obinna Ekweremuba (90) tackles Northern Iowa quarterback Tirrell Rennie during last season's game at Stambaugh Stadium. Rennie left last week's game with injuries and his status is questionable for Saturday's game against the Penguins.
YOUNGSTOWN
Here's what we know.
Early in the fourth quarter of Saturday's 27-19 loss to North Dakota State, Northern Iowa senior quarterback Tirrell Rennie — aka the Missouri Valley Football Conference offensive player in 2010 — suffered an ankle injury and did not return.
He also hurt his thumb and aggravated a knee injury. He was replaced by redshirt freshman Jared Lanpher, who threw a touchdown and an interception, finishing 4 of 9 for 68 yards.
On Monday, UNI coach Mark Farley said Rennie was questionable for this weekend's game against Youngstown State, although he is listed atop the weekly depth chart.
"His body is beat up," Farley said at his weekly press conference. "Tirrell is questionable right now going into this week, but he's been questionable before going into a week. The news was a lot better [Monday] morning than it was [Sunday]. Tirrell tends to come around and hopefully he will again this week."
Here's what we don't know.
How serious is the ankle injury? Is it actually an ankle injury, or is it, as has been speculated on Internet message boards, an Achilles tendon tear? If he can't play, how does that affect this week's game?
"He'll play, there's no question," YSU coach Eric Wolford said of Rennie. "You can't get caught up in all that hype."
Rennie gouged Youngstown State last season, running for a season-high 194 yards (137 in the second half) and two touchdowns and passing for 152 yards and a touchdown in a 34-30 come-from-behind victory at Stambaugh Stadium.
This year, he leads the Missouri Valley in total offense, accounting for 251 of UNI's 373 yards per game.
"He's a dynamic player," Wolford said. "I told Coach Farley at last year's coaches convention that I thought he should come out early.
"Obviously, we didn't get that done."
Although Rennie is easily the most dynamic running threat among MVFC quarterbacks, he's also been very efficient as a passer this season, completing 107 of 174 passes for 10 TDs. He threw his first interception of the season last week.
"The offense runs through him," said Wolford. "And he's got a bunch of other good football players around him."
If Rennie can't play, UNI will turn to an inexperienced, but talented, backup in Lanpher, who can't match Rennie's running ability but is a serious threat as a passer.
"He's got a great arm," said YSU defensive tackle Aronde Stanton. "He's not quite as elusive as the other guy [Rennie] but he still can move.
"Then again, it doesn't matter who their quarterback is. We're focused on what we do, not what they do. If they got the starter in, good, that's great for them. But our game plan's still the same. We're going to come in expecting to win, nothing less."