Kasich: Issue 2 helped with budget passage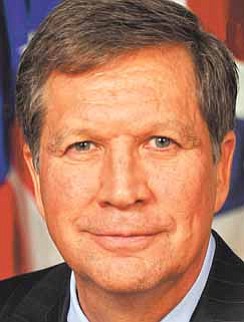 Photo
Columbus Dispatch
ZANESVILLE, Ohio
Even if it fails next week, Gov. John Kasich said state Issue 2 has made a positive impact in at least one way.
Compared with the outcry generated by Senate Bill 5 (now Issue 2), his two-year, $55.8 billion budget passed with barely a peep.
"One really good thing that I will tell you is that, as a result of a lot of the hubbub around this issue, we were able to pass our budget with a minimal amount of problems," Kasich said Monday after a pro-Issue 2 speech at Jack Havana's Wing Revolution restaurant in Zanesville.
The inattention was "fantastic because it is that budget that has set the framework for the state of Ohio to rebuild."
Kasich's comments Monday came in response to a reporter's question about whether he thought many had already made up their minds about Issue 2, which trailed in a Quinnipiac University poll by 25 points last week.
"I just know the reforms in this budget were dramatic reforms that Ohioans hadn't seen in probably 100 years," Kasich said when asked what problems he envisioned for his budget's passage had there been no SB 5. "So probably people's focus was somewhere else. Who knows what they, well, they tried to oppose JobsOhio, they tried to oppose controlling costs inside the state, but, I think, there's only so much energy to go around."
Democrats were quick to pounce.
"Among things I don't say often is, I agree with John Kasich, but he's right. He was essentially given a pass on his state budget," said Chris Redfern, chairman of the Ohio Democratic Party.
"The governor has spent the better part of the last six months overstating the benefits of Senate Bill 5 and understating the impact his budget has had on local communities. It's a Ponzi scheme," he said.
Sarah Bender, a spokeswoman for the House Democratic Caucus, added: "Bragging that his jobs budget didn't receive much public opposition because one of his other extreme policies has been the primary focus in the media, while Ohio lost nearly 22,000 jobs last month, is not exactly the kind of leadership this state needs."
Though Ohio did drop about 21,600 jobs in September, it has added a net total of 28,800 jobs since Jan. 1. Kasich took office Jan. 10.
The two-year state budget was tweaked and changed by legislative Republicans, but few would dispute that it largely resembled the plan Kasich unveiled March 15.
The final budget cut about $1.4 million from schools and local governments, and about $340 million from nursing homes.
Kasich also said during his speech that SB 5 is impacting current contract negotiations, holding down costs of pay and benefits going to public workers.