Poland Memorial Day event stresses enormity of soldiers' sacrifice
Poland Memorial Day Parade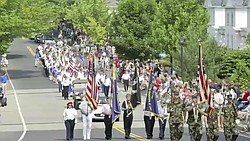 Video
Thousands turned out Monday for the Poland Memorial Day Parade.
By Sean Barron
POLAND
Officials estimate that 1.1 million soldiers have died in wars defending the United States.
To put the figure in perspective, that's roughly three times the population of Pittsburgh and one-eighth the number of people who live in New York City.
It's also a glaring example of why those representing all military branches who made the ultimate sacrifice serving this country should be honored and remembered, a speaker said during Monday's 38th annual Memorial Day ceremony in Poland Riverside Cemetery, 110 Riverside Drive.
"Their legacies will live on forever," said Jeff Vrabel Sr., commander, Sons of the American Legion Mahoning Valley Squadron 15.
"They served so we could keep the things we love the most: God, country and family," he said.
Memorial Day is more than a time to have picnics, hit the beach, fire up the grill and attend car races, and it's not enough to once a year honor those who gave their lives for freedom, he explained.
Calling past and present veterans "the real American idols," Vrabel added that fallen veterans' family members have to live daily with the emptiness of their loss.
The event's keynote speaker was Mahoning County Commissioner Anthony T. Traficanti, who asked his audience of several hundred residents, children, military personnel and others to imagine America without the sacrifices and accomplishments of military personnel, past and present.
Osama bin Laden, for example, likely would still be plotting terrorist attacks, noted Traficanti, whose father, Sam, is a four-year Navy veteran who attended the ceremony and was honored.
Traficanti, a 1984 Poland Seminary High School graduate, said he's grateful that, thanks largely to veterans' service, he can run a business and run for public office in a free country.
After Traficanti's presentation, Vrabel read the names of Poland residents who died in World Wars I and II as well as those killed in Korea and Vietnam.
Another speaker was Claire Kopcsos, president of the American Legion Auxiliary Mahoning Valley Unit 15, who urged attendees to honor and be thankful for those fighting the war on terror in Iraq and Afghanistan.
"Remember, the military of today is the veterans of tomorrow," she said.
Additional remarks were from Rod Hosler, commander of the American Legion Mahoning Valley Post 15; the Rev. Mark Brungard, pastor of the Church of the Rock; Mayor Tim Sicafuse; and Elinor Zedaker, Poland Board of Education president.
Musical selections were from the 250-member Poland Seminary High School band.
Preceding the somber ceremony was a parade that went from Cortland and Lee streets to the cemetery. The grand marshal was Merle Madrid, a World War II Navy veteran and 15-year Poland mayor.
En route, the parade stopped on state Route 170 to say a prayer and toss a corsage from the bridge into Yellow Creek. The brief ceremony was to remember those lost at sea, Vrabel said.