By Joe Scalzo
Jim Tressel at YSU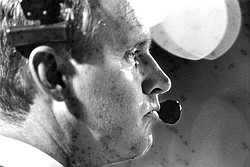 Gallery
A gallery of Jim Tressel photos from the glory days at YSU.
YOUNGSTOWN
Joe Malmisur, the longtime Youngstown State University athletic director who hired Jim Tressel in 1986, said he believes the reaction to the controversy is steeped in "schadenfruede," a German word that refers to taking pleasure in the misfortune of others.
"It bothers me that rather than judge Jim Tressel for what he was able to do for an extended period of time in Youngstown, people spend a great deal of time on his travails," Malmisur said Monday after Tressel resigned as Ohio State's head football coach. "There was not anything he did at Youngstown that was less than exemplary. He gave us 15 years of the greatest feel-good excitement I've had in my lifetime.
"I still consider him a friend. A person should be judged on all the things he's done, not where he may have stumbled."
When asked if he was surprised by Tressel's decision, Malmisur said, "Nothing Jim Tressel does ever surprises me. He probably had good reasons for it. He's never been self-serving a day in his life.
"He probably decided this was basically for the general good. I don't know. This is certainly not one of the happiest Memorial Days of my life."
Dan Wathen, the head athletic trainer at YSU during Tressel's tenure, said he was "surprised and yet not surprised.
"You understand what the situation is," Wathen said. "It's big business. It's cutthroat.
"The most sad and ironic thing is that all the years I've known Coach Tressel, he's always said that none of us are perfect, all of us make mistakes and we all deserve a second chance. It seems ironic that he's not going to get that second chance."
Wathen said Tressel has spread so much goodwill "throughout not only Ohio but the nation" that he wished he could have avoided this fate.
"But I'm sure it got the point where he said, 'I've got to do what's best for the players and the school.' That was always foremost to him — the players and the school.
"I'm sad because he's such a good guy and he'd do anything for you. I wish there were something I could do for him at this point. He's like family."
Kent State defensive coordinator Jon Heacock, who was a defensive coordinator under Tressel and who became his successor at YSU in 2001, did not respond to a phone message seeking comment. A Kent State spokesman said Heacock is out of town and did not wish to comment until he first spoke to Tressel.
YSU athletic director Ron Strollo, who was a team captain on Tressel's first national championship team in 1991 and took over as AD when Tressel left, also was out of town and did not return phone messages.