Hubbard graduates revel in their many triumphs
Hubbard 2011 Graduation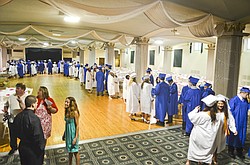 Gallery
By Sean Barron
YOUNGSTOWN
One of Haley K. Thirion's proudest high school accomplishments, besides having a diploma bearing her name, amounts to a big zero.
That's certainly not to suggest anything related to academics, however.
"We beat Struthers for the first time in five years," the Hubbard High School graduate said, barely able to contain her excitement.
Thirion was a big part of her softball team's victory earlier this month: She pitched a complete-game shutout as Hubbard won 10-0.
That triumph is one of many school memories that likely will stay with Thirion for years. Another is crossing the stage during Friday's Hubbard High School Class of 2011 commencement ceremony at Stambaugh Auditorium.
Thirion, one of 193 graduates to earn diplomas during the 90-minute ceremony, said she started playing softball around age 5. She also hopes to continue playing — this time at Laroche College in Pittsburgh, where she plans to attend this fall and major in radiology.
Don't think, though, that she's put down the ball and glove for the summer. Thirion intends to play at least 56 games on a team that will take her to St. Louis, Tennessee and Cleveland, among other places.
Flying high also is on the radar screen for Jeffrey E. Hill Jr., who is preparing to enter the Air Force Academy in Colorado Springs, Colo., next month.
"I plan to stay in the Air Force and get my 20 years in," said Hill, who's other major goals include making the Air Force track team and majoring in mechanical engineering.
Short-term plans are to unwind, get into better physical shape for basic training and take care of certain commitments before reporting June 23, he continued.
A high school highlight for Hill was earning his Eagle Scout award in his junior year as a member of Hubbard-based Boy Scout Troop 100. His project was installing a "Welcome to Hubbard" sign on state Route 7 and cleaning the area, Hill said.
Delivering the commencement address were valedictorians Justin A. Rosile, Adrianna C. Hayek, Jonathan J. Wlodarski, Abagail B. Agler, Mitchell T. Perry, Emily L. Granger and James J. Palestro, as well as salutatorian Erin E. Luthern.
The eight students' theme was on journeys through life, and each placed one letter next to the podium to spell "journeys."
They urged fellow graduates to cherish their unique experiences while building new ones; look at positive and negative situations as opportunities to grow and achieve; resist being afraid to take chances; and savor the graduation moment.
Additional remarks were from Principal Ron Garrett and Superintendent Richard Buchenic, who reminded the students that they were the first graduates of the new school.