Family opens bar and grill in Poland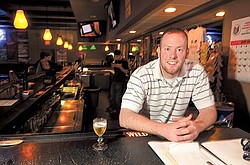 Photo
Neale Booth, nephew of Bill and Melissa Booth, is a bartender at Backyard Bar and Grill. The establishment, on State Route 170, just south of Western Reserve Road, opened recently after Bill and Melissa Booth said they wanted to bring a family-friendly bar and grill to town.
POLAND
As people prepare to grill out in their own backyards for Memorial Day weekend, one family is welcoming others to their Backyard Bar and Grill.
The recently opened bar and restaurant is on state Route 170, just south of Western Reserve Road. The building used to house Arnold's Lounge, a strip club.
Bill and Melissa Booth, of Poland, purchased the former lounge because they wanted a neighborhood, family-friendly establishment in town, similar to the Starlight, a restaurant in Poland that closed many years ago.
"The Starlight was a fixture in Poland and served spaghetti. If you did yard work all day and had a sweatshirt and jeans on, you could go there, have a beer and grab something to eat, and you were fine. You didn't have to worry about what you were wearing and that's our vision for here," Melissa said.
Bill said it's fitting for their business to be family-oriented because the entire Booth family is involved in the operation of the Backyard Bar and Grill.
Their son Perry, 24, who has a degree in economics, manages the bar and files the business taxes, while another son, Spencer, 19, helps out with day-to-day tasks and is planning the menu.
Their nephew Neale Booth, 26, has experience bartending and helps out when he's not at his day-job with YESCO Electrical Supply. Bill and Melissa rely on their sons and nephew to keep the bar running during the week while they're at their jobs; Bill is an electrician and Melissa is a hearing officer for juvenile court.
Bill noticed the building was for sale in October and worked with the Business Potential and Development Center at Youngstown State University to develop a business plan and apply for loans.
"The whole inside totally changed. The restrooms were renovated, everything's different," Bill said.
It took longer than they thought it would to get the bar ready because "the building was tired," Melissa said.
They set to work removing poles and sanding the dance floor. Fresh coats of paint, new seating, increased lighting and pool tables were in place for the May 6 grand opening.
"Every single person that's come in once on a weekend has come back in," Neale said.
Melissa said a few people did come in looking for dancers but were polite and left soon after they learned the dancers were gone.
The next step, Bill said, is to get the grill part of Backyard Bar and Grill operational. The kitchen is still undergoing renovations, so currently only items that can be prepared behind the bar, such as hot dogs and cheese plates, are offered.
The kitchen should be ready by mid-summer and will offer specialty burgers, subs and hoagies, Spencer said. Later he plans to cook "stuffies" — half-moon shaped calzones stuffed with anything a customer wants.
A patio and new sign should be completed and installed in the coming weeks, Melissa said.
"We're a close-knit family anyway, and we really just wanted it to be a good family venture and so far, so good," Melissa said.
The Backyard Bar and Grill is open from 3 p.m. to 2:30 a.m. Tuesday through Friday; 12 p.m. to 2:30 a.m. Saturday; 12 p.m. to 8 p.m. Sunday.