Donors sought to drive upgrades to golf course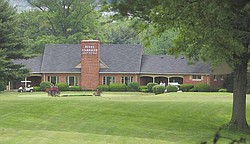 Photo
A group of golfers plans to raise money to pay for improvements to the Youngstown-owned Henry Stambaugh Golf Course on the city's North Side. Of particular concern is the exterior of the course's clubhouse.
Greatest Golfer | Henry Stambaugh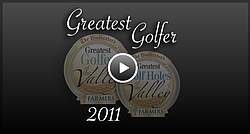 Video
Greatest Golfer | Henry Stambaugh
Friends of Stambaugh begins fundraising campaign
YOUNGSTOWN
With the city unable to provide funding to pay for repairs and improvements to its Henry Stambaugh Golf Course, a group of golfers created an organization to raise money for such purposes.
First on the list for the Friends of Stambaugh Golf Course is the exterior of the clubhouse.
The gutters and downspouts are rusting and during rain, water gathers near the building's foundation, porch and steps and has damaged wooden posts attached to the clubhouse. Also, work is needed to the window sashes and trim.
The exterior clubhouse work would cost about $17,000, said John Russo, one of the organization's founders. The city applied for a state grant for the work, but hasn't heard if it's been awarded.
Also, the course needs improvement work, said David Boos, who manages Stambaugh for the city.
That includes replacing the 12-foot-high mesh metal fence on the course's seventh hole, its 73-year-old irrigation system, and bunkers and tee boxes, and trimming trees on the course, Boos said.
"We're going to try to do what we can to raise money," Boos said. "The golfers are going to get together and take care of it ourselves."
The group has raised $1,000 so far.
The group will file paperwork soon with the IRS to make future contributions tax-deductible, organization officials said.
Those wanting to contribute can send checks or money orders to the Friends of Stambaugh Golf Course, attention Susann Timko or Richard Ascente, PNC Bank at Union Square, 2533 Belmont Ave., Youngstown 44505. Cash contributions can be made at that PNC Bank to Timko or Ascente, who are that branch's managers.