Gabriel pitches and hits Poland to semifinal win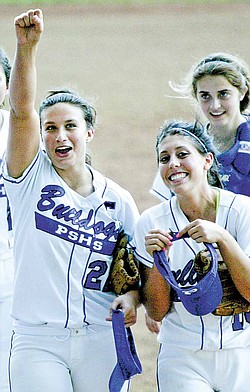 Photo
Poland pitcher Erin Gabriel, left, and Emily Chandler react after Thursday's 5-0 win over West Branch.

Photo
Poland's Kalie Benson slides into home to score as West Branch catcher Cheyenne Miller waits for the throw.
Gabriel pitches and hits Poland to semifinal win
By Greg Gulas
AKRON
Erin Gabriel tossed a one-hitter, struck out 16, clouted a home run and scored twice to lead Poland to a 5-0 win over West Branch on Thursday in a Division II softball regional semifinal at Firestone Stadium.
The win sets up a title showdown at noon on Saturday with Walsh Jesuit .
Bulldogs coach Reid Lamport was quick to point out Gabriel's performance was all in a day's work for his junior standout.
"We've come to expect this type of performance from her because she expects it of herself," said Lamport. "I am always impressed with what she does."
Last year, Poland (22-2) was state runner-up and the motto on their T-shirts Thursday read "Unfinished Business".
If there was a downside to the win, stranding 10 runners, including two in three of the first four innings is something Lamport will address before Saturday.
"One of our goals is two-out RBIs and for that we give helmet decals," said Lamport. "Today, we just didn't adjust like I felt we could have offensively.
"Our better hitters need to adjust at the plate because it eventually catches up to you if you do not," he added.
Gabriel (13-1) struck out the first three batters of the game and six of the first nine outs came via strikeout.
After she allowed a lead-off double to Brandi Snyder and a sacrifice bunt by Regan Reto to start West Branch's (17-8) fourth inning, Gabriel struck out Cheyenne Miller and Brittany Lippencott to end the rally.
The Bulldogs broke the scoreless deadlock in the fifth when they sent eight batters to the plate, scoring four times. Jenna Modic and Taylor Mikovic had singles.
"You just have to love games like this as a pitcher," said Gabriel. "The team got me five runs and that was big.
"It's an amazing feeling to be heading back to the title game because that means we're just one step closer to where we ultimately want to be this season," she added.
The Warriors threatened in the sixth inning when Gabriel issued back-to-back walks with two outs, but struck out Lippencott to end the inning.
She then struck out the side in the seventh.
"We knew coming in that the only chance we had was to play small ball," said West Branch coach Sis Woods. "She's the best pitcher that we have faced all season.
"We had a bad fifth inning, but overall I thought that we did a nice job and played well."