Go Go case defendant assaulted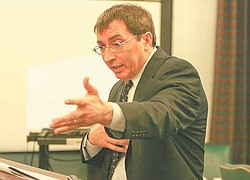 The Vindicator

Photo
Go Go Cabaret manager Sebastian Rucci addresses visiting Judge Thomas P. Curran during a court hearing Monday. Judge Curran ruled against the defense's motion to dismiss most of the charges in a case against Rucci and four other defendants who are all charged with engaging in a pattern of corrupt activity, money laundering, perjury and two counts each of promoting prostitution.
YOUNGSTOWN
A 27-year-old Youngstown man is in the Mahoning County jail in lieu of a $10,000 bond, accused of attacking Atty. Sebastian Rucci downtown and punching a police officer.
Keith Slade, 27, of East Dewey Avenue, was arraigned Thursday before Judge Robert Douglas of Youngstown Municipal Court on charges of assault and assault of a police officer.
Slade previously was sentenced to four years in prison in 2004 for aggravated robbery, with an additional three years for a firearm specification.
According to a police report, Slade walked up to Rucci outside the Thomas D. Lambros Federal Building and U.S. Courthouse on Market Street and punched the attorney in the face several times. Witnesses said Rucci's face was bloodied, and prosecutors said during Slade's arraignment that Rucci briefly passed out from the attack.
Rucci is embroiled in a legal battle involving the Go Go Cabaret, which he owns, in Austintown. He was taken to an area hospital for observation immediately after the attack. Rucci said he underwent a CAT scan and has since been released from the hospital, but is still having headaches.
The embattled attorney said he does not believe Slade intended to rob him.
Instead, Rucci claims that someone paid Slade to attack him. In the police report, he alleges that county Prosecutor Paul Gains could be involved.
Late Thursday, Rucci backed off that allegation.
"It's not like I believe Paul Gains paid the guy. What I believe is this: There's somebody that's protecting the other clubs," he said.
Rucci then compared himself to Gains.
"He had a great story. Someone tried to silence him by harming him. It's the same damn story with me," he said.
Witnesses say Slade walked off toward the Market Street Bridge, took his shirt off and threw it over the bridge as he walked.
Police caught up with Slade on the bridge and he at first acted as if he would submit to arrest, but he then took a fighting stance against the two officers. One officer tried to place handcuffs on Slade but was punched in the side of the face.
The officer who had been punched suffered a chipped tooth.
One officer reportedly punched Slade in the face, causing him to fall to the ground, but Slade got back to his feet and rushed at the officer. Another officer at the scene shot Slade with a Taser, which stopped his fight with officers.
Rucci and other defendants in a multiple-count indictment alleging illicit activities at the Go Go Cabaret will go on trial in November.
He and the other defendants, Curtis "C.J." Jones, Derrick L. Dozier, Wayne Penny and Peter E. Sciullo II, signed written waivers of a jury trial Monday before visiting Judge Thomas P. Curran.
Monday was opening day of proceedings against the defendants, who are charged with engaging in a pattern of corrupt activity, money laundering, perjury and two counts each of promoting prostitution.
Additionally, three corporations, Go Go Cabaret, 5455 Clarkins Drive Inc. and Triple-G Investments — all of 5455 Clarkins Drive — are indicted on a charge of engaging in a pattern of corrupt activity, with a forfeiture specification.
"The adult entertainment industry is not a place for a podium of justice, but at the same time, I paid for the permits, I renovated it, and I did exceptionally well," Rucci said.
Vindicator reporter Ashley Luthern contributed to this report.