Valley law enforcement to adopt fugitive-surrender program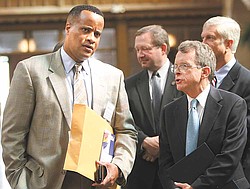 The Vindicator

Photo
Attorney General Mike DeWine, right, talks with Mayor Jay Williams after announcing the Fugitive Safe Surrender program would come to Youngstown next year. The two were part of a safety summit Wednesday at St. Dominic Church on the city's South Side.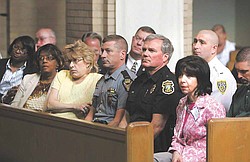 The Vindicator

Photo
Officials from a variety of law-enforcement jurisdictions, such as Lt. Christopher Heverly of the Ohio State Highway Patrol, left, and Boardman Police Chief Jack Nichols, attended a safety summit Wednesday at St. Dominic Church on Youngstown's South Side.
By Ashley Luthern
aluthern@vindy.com
YOUNGSTOWN
The state attorney general says a new law-enforcement program is coming to the Mahoning Valley.
The Fugitive Safe Surrender program offers individuals with felony and misdemeanor warrants the ability to turn themselves in and have their case adjudicated at a community church, typically in a court system with judge, prosecutor and public defender, said Attorney General Mike DeWine.
DeWine, attending a safety summit Wednesday on the city's South Side, said there are up to 15,000 individuals in the tri-county area with outstanding warrants. "They are a significant threat to law enforcement," he said.
The Fugitive Safe Surrender program has been a success in Cleveland since it was started by U.S. Marshal Pete Elliott in 2005 after a Cleveland police officer was killed during a routine traffic stop and the driver had an outstanding warrant, DeWine said.
The program will come to the Valley in 2012.
More than 34,000 people have surrendered nationally through the program, including more than 10,000 in northern Ohio, he added.
The program provides "no amnesty and no guarantees" on how cases will be decided, DeWine said.
DeWine was joined by a host of public and law-enforcement officials, including Mayor Jay Williams, Police Chief Jimmy Hughes, Mahoning County Prosecutor Paul Gains, city Prosecutor Jay Macejko and First Assistant U.S. Attorney Carole S. Rendon.
The first safety summit was last fall at St. Dominic Church, and it was there that the city launched Operation Redemption, a collaborative effort to demolish vacant houses and decrease crime levels. The Rev. Gregory Maturi led both summits.
"This is a basic problem of good and evil. Are we going to let evil win?" Father Maturi said. "... I believe in the power of prayer to work miracles ... but we also need practical, reasonable and legal action."
Williams and Hughes gave updates on Operation Redemption and law enforcement in the city. Williams said more police officers are expected to be hired in the next two to three months, and 10 to 12 officers will be added in the next six to nine months.
"A lot of work still needs to be done. ... We need a comprehensive approach," Williams said.
Hughes spoke of the renewed relationship with law enforcement at the state and federal levels through task forces and other collaborative projects. He said the department has emphasized community police and training for block watches to help police.
Hughes highlighted the successes of Operation Forecast, in which the police department geographically maps crimes and uses patterns to predict when and where crimes are likely to occur. Officers can then try to prevent crimes from happening.
He also mentioned the fruitful partnership with the Bureau of Criminal Identification and Investigation, a part of the Ohio Attorney General's Office.
BCI Superintendent Tom Stickrath said more than 400 crime scenes were processed through the Youngstown attorney general's office, and that the crime lab is making it a priority to process DNA evidence in less than 125 days.
Gang violence came up several times during the summit. Rendon explained that the U.S. Attorney's Office is using the same statute to prosecute gang members as those used in the 1990s to prosecute the mafia.
She also answered Tom Anderson, a Valley resident who asked if the next summit could address the needs of local children. Rendon said the U.S. Attorney's Office would like to bring STANCE, a comprehensive prevention, re-entry and enforcement effort to help prevent gang problems, to the Mahoning Valley.
STANCE is short for Stand Together Against Neighborhood Crime Everyday, said Craig Tame, law-enforcement manager for the U.S. Attorney's Office.
STANCE works with community, faith-based and nonprofit organizations to get at-risk youths out of trouble and present alternatives to gang life for them, he said.
"I'd like to bring [organizations] all together so kids don't fall through the cracks, and we see what's there now and what's needed," Tame said.
Bishop George V. Murry and Father Maturi closed the summit, each saying that it will take collaborative efforts across faiths, geography, city departments and all levels of law enforcement to make a change.
"All of us together, we can solve the problem of violent crime in the city," Father Maturi said.