State tennis features 4 Valley players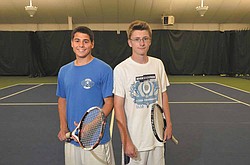 The Vindicator

Photo
Poland tennis players Ken Duncan, left, and Garrett Gardner will compete in the state doubles tournament for Division II on Friday at Hilliard Davidson. It's their first appearance at state.
AT A GLANCE
Boys state tennis
When: Friday and Saturday at Upper Arlington High School.
Area qualifiers: Michael Fredericka, JFK, and Mitch Maroscher, Salem (singles); Garrett Gardner and Ken Duncan, Poland (doubles)
By Tom Williams
For the fourth straight year, Warren JFK's Michael Fredericka will play for the state title in Division II singles tennis tournament.
Once again, he'll face a major obstacle on the opening day of this weekend's event at Hilliard Davidson High near Columbus.
"I'm beginning to think someone down there doesn't like me," said Fredericka with a laugh, referring to this year's draw that could have him facing Columbus Watterson's Chris Diaz, the defending state champion, in the quarterfinals. "Three of the four times I've gotten to state, I've had to face the defending champion or runner-up [early].
"But what can you do? And to win it, I just view it that you've got to play everybody. Whatever happens happens."
Also playing in the singles tournament will be Salem's Mitch Maroscher.
In doubles, Poland's team of Ken Duncan and Garrett Gardner has qualified. Sixteen singles players and 16 doubles team qualify for state.
For Duncan, a senior, it's a dream come true. As a sophomore, his doubles team made the second round of the district tournament before being eliminated.
"It felt really good," said Duncan of qualifying. "It's really difficult to make it to state."
Duncan said his state hopes began to rise last summer once he learned that Gardner, a freshman, chose Poland High over Ursuline where his mother, Joanne, is the tennis coach.
"Once I found out Garrett was going to Poland, I knew the best shot at going to state was in doubles," Duncan said.
Gardner called his high school choice "very tough" because he had attended St. Christine's Elementary School and most of his friends were going to Ursuline.
"But I'm glad I picked Poland," said Gardner whose team defeated Ursuline earlier this season. Gardner said his mother did not serve him his favorite meal that evening.
"Next year, she might not coach Ursuline's boys so she can watch my season," Gardner said.
Gardner said teaming up with Duncan was his initial goal.
"We figured we had a better shot going to state in doubles," Gardner said. "I playing doubles — we just pump each other up. This is amazing for me."
Duncan said their first-round opponent (Bellbrook's Jackson Heinz and Wyatt Heinz) will be a challenge.
"They are a one seed out of their district," Duncan said. Poland is the third seed from the Northeast district. "Everyone in tennis knows it's a big deal to go to state. It's a good way to end my high school career."
An omen Fredericka likes is that this year's tournament will be at Hilliard Davidson instead of Ohio State University like the past three years.
He also likes the prospect of facing Diaz later in the day. Last year, Fredericka drew the defending champion, Joey Fritz, in his opening match.
"I'm not really a morning person so I'd say I'd rather play [Diaz] in the second round of the first day rather than the first round of the second day," Fredericka said. "I always seem to play better after I've played once during the day.
"Everybody has nerves — I still get them."
Fredericka's approach has changed from three years ago.
"When I first got to go to state, I was just really happy because my goal was to get there," the JFK senior said. "Then I met up with the player expected to to win it and he won handily, 6-0, 6-3.
"I chose to use that to motivate myself, that's I've taken the positives from those matches," Fredericka said.
Next fall, Fredericka will be playing for his "dream school" — Notre Dame.
"My dad is an alum from there and I've always wanted to go there. There were other schools involved in my decision but once they offered, my signature pretty quickly went on the letter of intention.