Heavy spring rain hinders pollination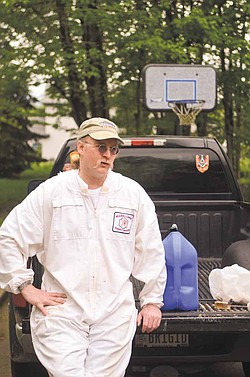 The Vindicator

Photo
Eggleston said incessant rain in April and May has prevented his honey bees from flying. He's using pollen patties to make up for the lack of natural pollen the bees have brought in.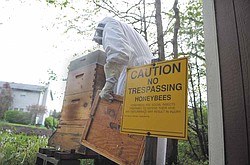 The Vindicator

Photo
Alan Eggleston of Cortland checks on the honeybee hives in his backyard. Eggleston, president of the Trumbull County Beekeepers Association, has kept hives as a hobby for the past eight years.
Heavy spring rain hinders pollination
CORTLAND
This time of year, Alan Eggleston's backyard should look like a freeway for honey bees. "They should be rocketing out toward the neighbors' yards," said the Cortland resident and beekeeper.
But incessant rain in recent weeks has prevented Eggleston's honey bees from flying. "I'm still seeing bees come in with pollen. Probably not near where it could be with dry weather. Rain is bad," he said last week while installing pollen patties on one of his backyard hives. The patty nourishes the bees until the weather clears up and they can find their own. The patty is chemically the same as pollen found on flowers. "But it's the difference between your mother's cooking and army cooking," Eggleston said.
Eggleston is president of the Trumbull County Beekeepers Association and has kept hives as a hobby for the past eight years.
He said he's not too worried about serious effects of prolonged rain.
"People say if we lose our honey bees, we're going to starve, but that's not true," Eggleston said. "They aren't even native to the United States."
Mike Shafer, owner of A to Z Apiary in Warren, said the rain hasn't only delayed the pollination process, it's also delayed blooming for some plants and trees, which means bees and plants will be in sync once the rain clears for long enough.
"You're going to get rain in April. I don't ever worry about rain in April," Shafer said. "If it continues it's going to concern me greatly because the trees are going to blossom eventually."
Shafer noted that though fruit needs pollinating, many Ohio crops in the area such as corn are pollinated by the wind and don't require help from honey bees.
Dave Goerig is the agriculture extension educator at Ohio State University extension office in Canfield.
"My bees are active," he said last week. "In fact today we had about an hour of sunshine, and I know those little rascals got out there and did their work. Now here's the thing: It's not so much that they can't get out, it's that when they do get out the duration of the flower is compromised this year."
Aside from preventing flying time, the storms have caused damage that could affect pollination.
"This year nasty storms have blown the petals off some of the flowers," Goerig said. "The calling card of the bee is the petal color. If there's no petal there, the bee won't visit it."
That raises concerns for some fruit crops, Goerig said, although we won't know how severe the damage was for a week or so when spring fruits typically ripen.
"We're not in panic mode yet," Goerig said. "We've got our eyebrow up and we're looking. These things can turn around in a day."
But, he said, "there's reason to be concerned."
Even if the rain hasn't meant much from the pollination front, Eggleston is warning of increased swarms this spring.
Bees occasionally leave their nest or hive in a large group when they sense overcrowding. The queen will stay at the center of a dark mass of flying worker bees that land on a nearby tree or home. Swarms can be as large as a basketball and usually cause alarm, but Eggleston said they aren't dangerous.
"They're nothing to be afraid of," he said, adding that he gets a few calls each year to remove swarms before they cause damage to houses and other structures. The bees are generally docile in a swarm because they aren't trying to protect a supply of honey.
"But colonies should be getting a sense of overcrowding now because there's no time to fly 18 days in a row," he said.