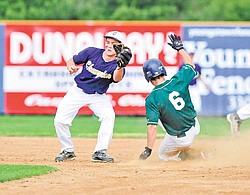 Special to the Vindicator

Photo
Anthony Rohan (6) of Ursuline slides safely into second base on a steal, beating the tag of Champion's second basemen, Tyler Chinchic.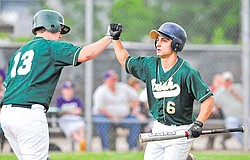 Special to the Vindicator

Photo
Ursuline's Anthony Rohan (6) is congradulated by teammate Sam Donko after scoring the first run of the game on Tuesday. The Irish defeated Champion 14-1 in the Division III district championship game at Cene Park.
URSULINE 14
CHAMPION 1
Next: Ursuline vs. LaGrange Keystone, Division III regional semifinal, Thursday, 2 p.m., at Massillon High School.
Ursuline wins big to win district crown
By Pete Mollica
STRUTHERS
The Ursuline High baseball team has picked the right time to get hot with both its pitching and hitting.
The Irish (13-7) scored 32 runs in its two Division III district tournament games this week and their pitching allowed a total of two runs and just five hits.
Ursuline claimed its seventh district championship Tuesday afternoon by posting a five-inning, 14-1 victory over Champion at Bob Cene Park.
Ursuline advances to regional competition on Thursday at Massillon High School against Keystone at 2 p.m.
The Irish finished with 14 hits against the Flashes (14-6) and sophomore pitcher Harrison Finelli tossed a three-hitter while striking out four and he did not issue a walk.
"We certainly didn't expect this because we knew Champion was a very good team," said Ursuline coach Sean Durkin. "We had been swinging the bats very well and we were hoping that it carried over to today and obviously it did.
"We've had nothing like this during the season, but then it's been a rough spring with the weather and all and now it's warming up a little and we've been able to get outside more and work on a lot of things," Durkin added.
The Irish start five sophomores and those five combined for eight of the team's 14 hits, including three each by second baseman Anthony Rohan and shortstop Ryan Strollo.
"We started four freshman last season and we were hoping that they would mature and they have," said Durkin. "At times those four make up our entire infield."
Champion coach Tim Cope was impressed by the Irish.
"They are really an excellent team and today they did everything right, good pitching, timely hitting and good plays in the field," Cope said.
"I'm very pleased with our season and especially the play of our nine seniors, who we are really going to miss next season," he added.
Ursuline scored single runs in the first and second inning. Strollo drove home the first run with a single and senior Jeff Podolsky brought home the second with a single.
The Irish broke the game open in the third as they scored seven runs on seven hits, including a pair of triples, one by Finelli and the other by Podolsky as they sent 11 batters to the plate.
Ursuline clinched the win with a five-run fourth inning that included a three-run triple by senior Paul Kempe.
Finelli's only bad inning was the fourth when he gave up a lead-off double to Rick Yeager and Shane Brown drove him home with a single.
"Harry did an excellent job and the big thing was that he was efficient, especially since we have to play district and regionals in the same week," said Durkin.