Chamber got $400K in public funds in 2009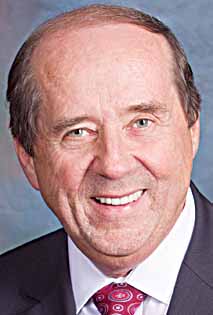 Photo
Tom Humphries, president and CEO of the Youngstown/Warren Regional Chamber.
By Karl Henkel
YOUNGSTOWN
About $400,000 of the Youngstown-Warren Regional Chamber's $2.7 million revenue in 2009 was taxpayer funded, according to documents and information the group released Tuesday.
The documents were in response to Mahoning County Democratic Party Chairman David Betras' record request submitted May 2.
"This request is based on the fact that the Chamber receives funding from numerous governmental and publicly funded sources and appears to be carrying out what historically have been governmental or public functions in exchange for public money," the request read.
On Tuesday, Betras, who was in Columbus, said he was not impressed with the chamber's response.
"They only provided me with money they have gotten from the county," he said and referenced the statute in the Ohio Revised Code he outlined in his request.
Section 149.431 reads: "Any governmental entity or agency and any nonprofit corporation or association ... that enters into a contract or other agreement with [the government] shall keep accurate and complete financial records of any moneys expended in relation to the performance of the services pursuant to such contract. ... Such contract or agreement and such financial records shall be deemed to be public records."
Chamber President and CEO Tom Humphries reiterated that the chamber is a private organization and has no reason to provide Betras with that information.
"Give me motivation to give him information that's private," he said. "That's why we have laws."
The chamber is a 501(c)(6), which by definition aims "to promote such common interest and not to engage in a regular business of a kind ordinarily carried on for profit," according to the IRS.
Federal appropriations are normally reported on the contract fees line on a nonprofit organization's 990 form, but there is no requirement to break down specific figures unless it is deemed a benefit to the general public, such as a museum or nursing home.
An organization's 990 form is available to the public two years after it has been filed. Though the chamber released some information from 2007 to 2010, 2009 was the most current year The Vindicator could evaluate.
According to the chamber's 2009 990 form, total contract fee revenues equaled $1,244,424, and the chamber acknowledged that about a third of that, or roughly $400,000, was from federal, state and local government appropriations.
Of the roughly $358,250 received from the state or local level, about $119,000 was a federal earmark from former U.S. Rep. Charles Wilson of St. Clairsville, D-6th, that arrived in 2009, according to information from Humphries earlier this month. That money was pegged for the REACH program, which funded three staff positions, though the funds are set to expire this summer.
Four of the five local entities that signed agreements with the chamber provided a combined $41,750 in 2009, led by the Trumbull County Board of Commissioners, which contributed $18,000. That money was used for economic development and retention, Humphries said.
The chamber maintains the value of its work in Trumbull County, where representatives meet with individual businesses, was actually $68,000.
The Mahoning County Board of Commissioners and the Mahoning and Trumbull County Community Improvement Corporations were the other contributors; Western Reserve Port Authority also was listed but has not contributed funds since 2007.
The chamber, much like Betras in his initial request, chose to send copies of the information to the media, and Humphries said that was done in part to ensure the accuracy of the information and not intended to control how Betras would respond.
"I am not sure anyone can control Chairman Betras," Humphries said. "I just wanted to make sure it's clear that we responded to his request."