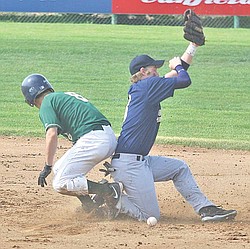 Special to the Vindicator

Photo
Ursuline's Anthony Rohan slides safely into the bag as Brookfield's Cameron Derr bobbles the ball during their Division III district semifinal baseball game Monday at Cene Park in Struthers. The Irish dominated the Warriors 18-1 to advance the district final against Champion today at Cene Park.
PREP SPORTS
Baseball
Ursuline 18
Brookfield 1
Champion 11
United 1
Next: Ursuline vs. Champion, Div. III district championship, today, 5 p.m., Cene Park.
Ursuline scores 14 in 2nd inning to beat Brookfield
By Greg Gulas
STRUTHERS
By their own admission, the Ursuline High baseball team was a work in progress at the outset of the season.
In Monday's Division III district semifinal game against Brookfield, they looked like a well-oiled machine.
The Fighting Irish scored early and often while three Ursuline pitchers combined on a two-hitter as they toppled the Warriors, 18-1 in five-innings at Cene Park.
They advance to today's district championship game against Champion, who defeated United 11-1 in Monday's other semifinal.
"This is an awkward week in that both district and regional play will both be taking place," said Ursuline coach Sean Durkin. "We were hoping to get an early lead and play for the big inning but to have the type of second inning that we had today is something that you just cannot plan for."
Ursuline got the scoring started in its half of the first when Anthony Rohan walked, stole second and with two outs scored on a single to right field by Ryan Strollo.
The Fighting Irish broke the game open in the second stanza when they sent 19 batters to the plate, scoring 14 runs on 10 hits while aided by four Warriors errors.
The first 12 Ursuline batters crossed the plate while five scored twice in the inning, highlighted by designated hitter Matt Lacko's three-run double.
Jeff Podolsky also had three RBIs in the inning, the first two coming on a single to the opposite field and the other by virtue of a sacrifice fly.
He ended up driving in a game-high four runs.
"I was at the top of the lineup early in the season but [Durkin] moved me down so that I would see the ball better," said Podolsky. "With Paul [Kempe] at the top of the lineup, we complement each other rally well."
Kempe, who had four hits in five trips to the plate, also scored twice; one of six Fighting Irish players to score at least two runs in the game.
"We had five strong innings today, but we'll need seven strong innings [today]if we want our season to continue," said Kemple. "We struggled early in the year but we're starting to come together at the right time."
Brookfield (5-10) avoided the shutout in the third when R.J. Leon walked with one out, later scoring on a wild pitch.
Ursuline (12-7) added their final two runs in the fifth inning on back-to-back run-scoring triples by Podolsky and Kempe.
"We're a young team that starts a freshman, seven sophomores and just one senior," said Brookfield coach Bob Trudo. "When you're that young, sometimes you just aren't used to the big stage.
"I told our guys after that big inning to play for pride, have fun and just keep fighting. They'll learn from this and we'll be back."